Advancing Scholarship on Women and Politics
From its beginning, CAWP has been committed to advancing scholarship about women and politics. In 1974 and again in 1976, with the goal of stimulating research about the unexplored subject of women's political participation, CAWP announced national competitions to award Florence Eagleton Grants to scholars conducting their own research projects. The first round of these important awards, all funded by the Ford Foundation,  provided six grantees with the means to explore the nature and political impact of women's voluntary activities. The second round supported six scholars studying women and local government. These projects resulted in a variety of influential publications and promoted a network of scholars across the country who continue to explore the new research field of women and politics.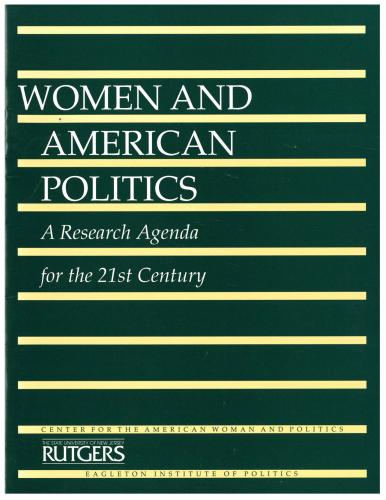 CAWP published The Political Participation of Women in the United States: A Selected Bibliography 1950-1976 (Scarecrow Press, 1977), containing citations for published and unpublished writings and work in progress on American women's participation at mass and elite levels. With more than 1,500 entries, the bibliography reflected a growing volume of scholarly research on women in politics.
In 1994, almost a quarter-century after doubts at the time of CAWP's founding that there was a worthwhile field of study around women and politics, the Center convened a working meeting of key thought leaders to develop a research agenda for that field. The 79 participants in the Ford Foundation-sponsored meeting included many of the top scholars studying women's political participation, as well as political practitioners. Papers prepared for the conference were revised to reflect participant suggestions and compiled for publication by CAWP as Women and American Politics: A Research Agenda for the 21st Century (PDF). 
 As both a political scientist and an elected official, I value CAWP's distinctive contribution–making connections between what scholars know and what officeholders need. -- Cindy Simon Rosenthal, Director and Curator, Carl Albert Congressional Research and Studies Center, University of Oklahoma and Mayor, Norman, Oklahoma
In 2003, CAWP senior scholar Susan J. Carroll edited Women and American Politics: New Questions, New Directions,which presented a new research agenda, developed by leading scholars of American politics, suggesting directions that could fruitfully shape the study of women and American politics in the early twenty-first century. It contained reviews of existing research, but its primary focus was on important research questions, posing a challenge for the next generation of scholars.
In 2012, CAWP senior scholar Kira Sanbonmatsu compiled a research inventory with support from the Hunt Alternatives Fund's Political Parity Project. (The inventory was updated in 2015.) Intended for scholarly and general public audiences, it reviewed current and past research about women and American politics in order to identify strategies for electing more women and research questions yet to be addressed. Parity reported that the inventory was the most visited section of their website.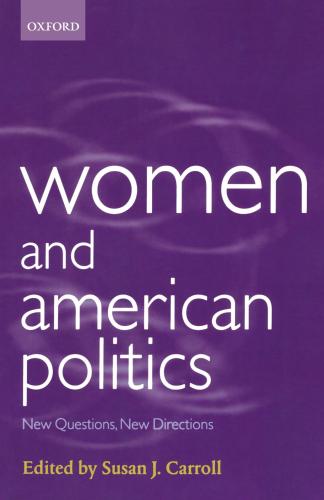 Counting, Identifying
CAWP established the National Information Bank on Women in Public Office in 1975 to serve as a clearinghouse for information about women officeholders. The Center conducted the first national census and survey of women serving in federal, state and local offices, generating the first accurate numbers of women officeholders at various levels. In the late 1970s, CAWP published two editions of Women in Public Office: A Biographical Directory and Statistical Analysis (Scarecrow Press, 1976 and 1978).
 CAWP is the Federal Reserve for information about women in politics. - Eleanor Clift, Journalist and Author
Since those early days, CAWP has become the most trusted resource about women in U.S. politics; the Center provides both current numbers and their historical context including firsts, records and trends to scholars, media representatives and others who want or need the information. Since the advent of the internet, the Center's fact sheets and data have been available online; CAWP's website offers customizable data to answer a wide variety of questions about women in politics over time. 
Research: Routes and Impact
The first study of U.S. women in elective office was commissioned by CAWP in conjunction with its 1972 Conference for Women State Legislators. That study was published as Political Woman (Basic Books, 1974) by Dr. Jeane J. Kirkpatrick.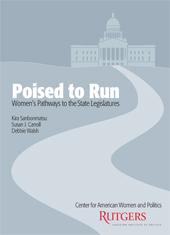 The Center's earliest research simply identified women officeholders and compiled basic demographic data. Once CAWP had established systems for acquiring demographic information, the next task was to track women's routes into public office and compare them with those of their male counterparts. A 1981 grant from the Charles H. Revson Foundation began that process, which led to: a series of seminal studies on women in elective and appointive offices at the state and federal levels; reports describing emerging organizations of women officeholders; and reports describing the early development of political action committees (PDF) focused on funding women candidates. 
Among the reports in the first Revson-funded series was Women Make A Difference (PDF), CAWP's first attempt to trace the impact of women in public office.  As the growing numbers of women in office made it both interesting and feasible to explore that subject, Revson awarded another major grant in 1986 that funded CAWP to conduct extensive research and commission scholars elsewhere to explore various aspects of the question of impact.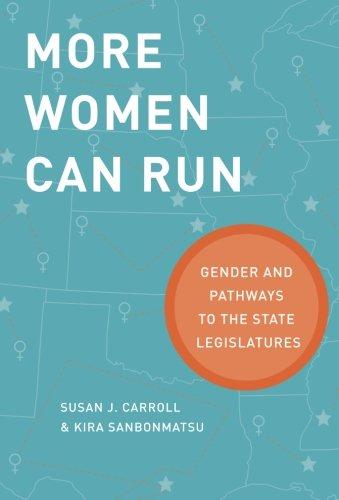 A new study of routes to elective office, conducted in 2008, provided the basis for Poised to Run: Women's Pathways to the State Legislatures (PDF), a monograph published in 2009. The research, supported by the Barbara Lee Family Foundation, the Susie Tompkins Buell Foundation, Wendy Mackenzie and others, identified steps necessary to get more women to run for office.
Published in 2013, More Women Can Run: Gender and Pathways to the State Legislatures (Oxford University Press, 2013), written by CAWP senior scholars Susan Carroll and Kira Sanbonmatsu, draws on the CAWP surveys of women legislators conducted in 1981 and 2008 and follow-up interviews after the 2008 survey to extend our understanding of gender differences in pathways to the legislatures, offer some possible explanations, and provide insight into new strategies for political practitioners concerned about women's political equality.
Research: Candidates and Campaigns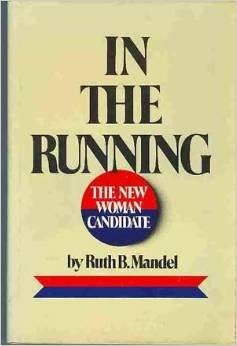 Women candidates and their campaigns have been the subjects of work by several CAWP scholars. In the Running: The New Woman Candidate (Ticknor and Fields 1981; paperback Beacon Press, 1983) by the then-CAWP director, Ruth B. Mandel, was the product of research begun in 1976 and stories collected by a team of journalists working on the project. It described the emergence of women as candidates for elective office in the United States in the 1970s. Susan J. Carroll authored Women as Candidates in American Politics (Indiana University Press, 1985, second edition 1994), examining political parties' recruitment of women candidates, the factors that affect the outcomes of women's primary election campaigns, officeholding ambitions of women candidates, and women candidates' views on women's issues. Kira Sanbonmatsu published Where Women Run: Gender and Party in the American States(University of Michigan Press, 2006), looking at where and why women run and how parties can help or hinder them. Carroll co-edited, with Richard Fox of Loyola Marymount University, several editions (2005, 2009, 2013) of Gender and Elections: Shaping the Future of American Politics (Cambridge University Press);each volume contained chapters by scholars about a variety of aspects of the role of gender in American electoral politics. Kelly Dittmar's book, Navigating Gendered Terrain: Stereotypes and Strategy in Political Campaigns(Temple University Press, 2015) examines how gender influences the campaign strategy and behavior of candidates and how candidates' strategic and tactical decisions can influence the gendered nature of campaign institutions.
Anticipating the 2016 presidential election, when both women candidates and women voters would be central to the discussion, CAWP teamed with the Barbara Lee Family Foundation to create Presidential Gender Watch 2016, a nonpartisan project to track, analyze and illuminate gender dynamics in that election. The initiative draws on the research and expertise of both partner organizations, as well as other experts, to further public understanding of how gender influences candidate strategy, voter engagement and expectations, media coverage, and electoral outcomes in the race for the nation's highest executive office. 
In the wake of the Supreme Court's Webster decision returning to the states greater power to regulate abortion, CAWP undertook research in the late 1980s and early 1990s examining the impact of the abortion issue on electoral politics. 
Equality Deferred: Women Candidates for the New Jersey Assembly 1920-1993 was written by historian Richard P. McCormick and Rutgers administrator Katheryne C.. McCormick in 1994. Published by CAWP, it provided a history and analysis of women's candidacies for the legislature in the Garden State. 
Women as Voters
Through its election-year Women's Vote Watch, CAWP has tracked and analyzed polling data related to voter turnout, the gender gap, and the women's vote, issuing fact sheets and reports that provide context for news stories about gender and voting. CAWP has been a leader in defining, identifying and interpreting the gender gap and its relationship to the women's vote.
Women and Term Limits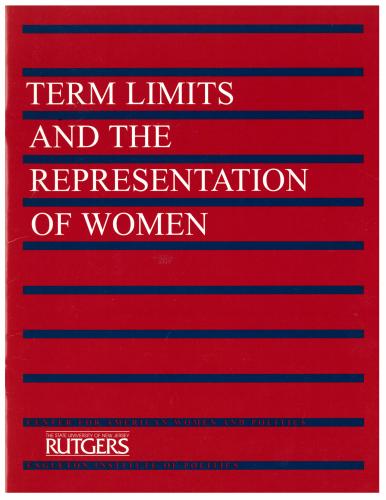 In 1999, CAWP convened a meeting to examine preliminary data on the impact of term limits on women's representation and to explore how women might capitalize on political opportunities created by term limits. (See Term Limits and the Representation of Women (PDF), by Mary Hawkesworth and Katherine E. Kleeman and subsequent research by Professor Susan Carroll and Krista Jenkins, including "Unrealized Opportunity? Term Limits and the Representation of Women in State Legislatures" (PDF) in Women & Politics  and "Increasing Diversity or More of the Same? Term Limits and the Representation of Women, Minorities, and Minority Women in State Legislatures" (PDF) in National Political Science Review. Professor Carroll also authored "The Impact of Term Limits on Women"(PDF) in Spectrum: The Journal of State Government.