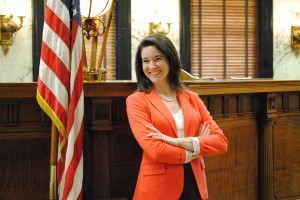 Rachael Luckett (University of Southern Mississippi) was a participant in this year's inaugural NEW Leadership Mississippi program, held from May 20-25 at the Mississippi University for Women. Rachael chronicled her experiences, reactions, and memories from the program on her blog, luckettmenow.wordpress.com. Highlights from her blog entries are posted here, but please take a few minutes to check out all of her posts (and wisdom!). Be prepared to be impressed and inspired by our partner program and our new alumna! ****************************************************************************************************************** Day 1 and 2 of "NEW" Thirty-three women who attend college in MS assembled for our first introduction, and starting at that first hour I have been very excited and honored to be a part of the inaugural class of the NEW Leadership Program Mississippi. …. Just to sum it up: It's not easy, breezy, or beautiful; girls need to break the barriers that we think exist and cover the country with our ideas, perspectives, and dedication. …. We have had several speakers over the past few days and these are merely a few things I've taken away from them:
"Challenge yourselves." - Kate Brown, Director of Center for Creative Learning at the Mississippi University for Women
"You are the next generation of leaders." – Heather McTeer Toney, former Mayor of Greenville, MS and Executive Director of the Women's Institute for Excellence at Mississippi Valley State University
"Self-awareness is always included in the definition of leadership." – Carole Leland, International Leadership Consultant
"Don't let yourself think you can't do something; let your heart tell you what you can do." – Heather McTeer Toney, former Mayor of Greenville, MS and Executive Director of the Women's Institute for Excellence at Mississippi Valley State University
"Remember three words: be, know, and do. Be who you are. Know who you are and what you stand for. Take action." - Amy Tuck, former Lieutenant Governor of Mississippi
"Respect does not come with the job title; you have to earn it." - Amy Tuck, former Lieutenant Governor of Mississippi
"People don't care how much you know until they know you care" - John Maxwell
"Be willing to extend a helping hand even if they will advance beyond you." – Amy Tuck, former Lieutenant Governor of Mississippi
"You can't get to second base if you have a foot still on first." – Amy Tuck, former Lieutenant Governor of Mississippi
Don't be afraid to say "I was wrong."
If someone tells you "Good Job", make them tell you why so you will know what to continue or repeat.
You may need others' help to achieve your goals, but don't forget that others may need your help to succeed too.
The road to success is always under construction.
Team sports participation is important because it teaches you that you'll lose sometimes, but you have to move on and try again.
God gave us two ears and one mouth for a reason. Listen twice as much as you speak.
Day 3 of "NEW" My goals of this program are really to bring my leadership skills back and plug them into the leadership positions that I will be holding next semester, which includes my second semester as Director of Social Awareness in Delta Gamma as well as my new position as Vice President of the Southern Miss Activities Council (SMAC). I'm pumped to share all these leadership skills with my respective organizations and see how much we can grow this year! ….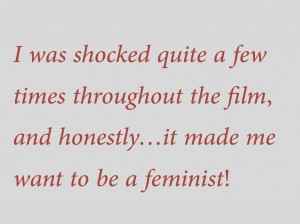 We crammed into a classroom to watch the documentary "Miss Representation" (2011) which focused on the portrayal of women by mainstream media. The focus on women was not on their causes, their intellect, or their successes; it was on their appearance. Many examples were used to show how, no matter when a woman in public service was mentioned, the focus always shifted to their beauty and sexual portrayal. I was shocked quite a few times throughout the film, and honestly… it made me want to be a feminist! Our priority should be to empower women and girls and not send mixed feelings about women portraying non-traditional roles. If you have not seen the film, I highly suggest that you see it. It brings to light so many issues that we see as common day activity, but truthfully no woman in any position should have to tolerate it. …. More advice or quotes of the day:
"If someone ever tells you something can't be done, what they're really telling you is 'I don't know how to do it'." – Neely Carlton, former Mississippi state senator
"Never ever ever burn a bridge." - Sherry Vance, Chief Marketing and Communications Officer at Butler, Snow, O'Mara, Stevens, and Cannada, PLLC
"The most common way people give up their power is by thinking they don't have any." – Alice Walker
Challenge people if they say derogatory things about women.
More people should challenge the world and our traditions.
Your goal should be to be so good at what you do that others can't ignore you.
Day 4 of "NEW" When we arrived in downtown Jackson, it was just the same as I remembered it. Busy streets. Beautiful architecture. Church bells ringing. And thank goodness for the clear blue skies. …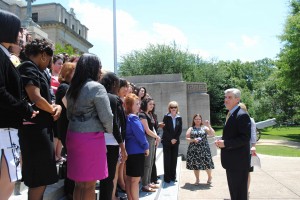 We met Governor Phil Bryant and took a quick photo with him. We also met Cindy Hyde Smith, the Commissioner of Agriculture, who gave us great insight into her position when she addressed us later. … Well after three hours of driving away from the sunset, we made it back to the W safe and sound (no need to worry, mother). We ate greasy pizza for once this week inside the adorable Puckett House, and I must say… it has been such a phenomenal week. I know we still have half of a day left tomorrow, but when we were eating I couldn't help but notice how sociable everyone was. From the loud or funny or deep conversations that were taking place, we all seemed like we had known each other much longer than just four days. Before I get sentimental too soon, I want to give you my daily advice/quotes:
"Women can do what they want; they are made of an indescribable fiber." – MS Commissioner of Agriculture Cindy Hyde Smith
"If you want a job talked about, get a man. If you want a job done, get a woman." – Liz Welch, Secretary of the Mississippi State Senate
"Don't tell someone no. Just accept the opportunity and become an expert in it." – Ashley Buckman, Jones/Walker
Capitalize on the opportunities you are given. They may look small in front of you, but they are huge behind you.
You can't put a dollar amount on experience.
Develop relationships with the people you work with and also those involved with the position you want.
You can't be all things to all people. (Amen.)
Be flexible. Nothing is going to go as planned. Don't over plan your life. Let life come to you.
Remember that a small change you make will make a large difference down the line. (Hello, butterfly effect.)
Never compromise your integrity.
Keep people's confidences.
Always give back. (Hmmm this sounds familiar… http://luckettmenow.wordpress.com/2013/05/15/always-come-back/)
Always take chances to expand your knowledge.
Final Day of "NEW" All week our group has worked diligently to prepare ourselves to present in front of our "legislative panel". When each group presented, I could tell how hard everyone had worked to make this day the best that we could. The legislative panel asked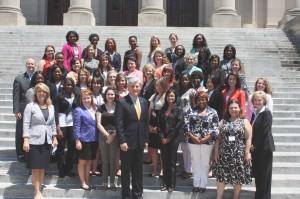 a few tough questions, but no one ever froze or became nervous. We worked on our toes and gave our best answers according to what we had learned, and at the end of the day that's enough for me. There are a lot of times in your life when you should take the time to debrief. So that's what we did. Some key points were:
Keep your main themes to remind the people why you are there.
Show your passion.
If you say you don't like/agree with something, make sure to offer a solution or alternative.
Work together.
Do your homework.
Be focused and less vague when speaking on a point.
Uplift and support your colleagues during the presentation and behind the scenes.
Be aware of who you are around. Be formal especially when addressing those who have worked hard for the title they hold.
… Before the program began I stuck to my belief that I would never run for any government office. I want to thank Carole because she was determined that I would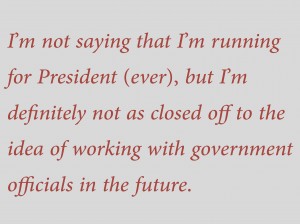 change my initial thoughts about running for office by the end of the program. I'm not saying that I'm running for President (ever), but I'm definitely not as closed off to the idea of working with government officials in the future. Thanks for not giving up on my stubborn self. In her closing remarks, she also reminded us that we matter to her, and she knows how much we are going to matter to many others in the near future. …. I have been given an incredible amount of advice about leadership this week, which I plan on transferring to my positions that I hold at school. It has also given me even more reassurance as I take my job as a leadership facilitator at the Mississippi Governor's School next month. This experience was priceless, and I feel like my recent posts tell it all. Even though today was the final day of Mississippi's first NEW Leadership program, it will not be the last for many people. I know we will keep connected with the new relationships we have made this week and will find ways to continue to learn from each other. I also have so much hope in the future of this program at MUW. This program has proven to be an amazing and beneficial opportunity for college women across the state, and I know it will become even more successful year after year. This is not the end. It is a new beginning. ***************************************************************************************************************** For more photos and updates from this year's NEW Leadership MS program, visit the program's Facebook page, and for more information about all of CAWP's NEW Leadership programs, visit www.cawp.rutgers.edu/education_training/NEWLeadership/.
The following blog is a guest post from Felise Ortiz, a senior at Rutgers University-New Brunswick, double majoring in Political Science and Women's and Gender Studies with a minor in Spanish. She is an alumna of the NEW Leadership NJ Class of 2011. Felise is the Founder and President of Douglass D.I.V.A.S., a female empowerment student organization at Rutgers University. She is also an Institute for Women's Leadership Scholar as well as an Eagleton Institute of Politics Undergraduate Associate.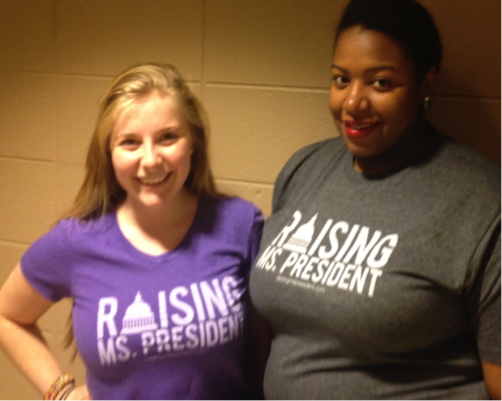 Jennifer Osolinski (L) and Felise Ortiz (R)
The underrepresentation of women in politics in the United States is an issue that needs to be addressed immediately and with urgency. With the help of the Institute of Women's Leadership, my partner Jennifer Osolinski and I were able to facilitate a conversation addressing this issue. Our social action project was not only an opportunity to hone our feminist leadership skills but it also served as testament to the fact that the personal is indeed political. As former Eagleton and CAWP interns, Jennifer and I wanted our event to make at least one young woman consider a first step in the direction of politics. We were inspired by programs such as NEW LeadershipTM and Ready to RunTM because they inform women about the current political climate and encourage them to become involved in public service. While strategizing on how to reach a youthful audience, we were approached with the possibility of doing a film "Raising Ms. President" a new documentary about getting girls politically active. Once we watched the trailer, we agreed that it would be a great foundation for our project and our overall message. I learned a lesson in patience and professionalism from this portion of the experience. I also learned that is apart of the feminist model of leadership to use your network. Our networks ultimately resulted in three amazing panelists and the film arriving on time. We had an audience of about twenty-five people who were enthusiastic about the film and project as a whole. I had a list of prepared remarks and questions for the panelist. However, I learned the most from the audience's engagement with the panelists. There were many though-provoking questions asked and answered. The key moment of the event for me occurred after most of the attendees departed and two panelists were left talking passionately about campaigns. One woman was a Caucasian Republican representative from a suburban town and the other was a Black Democrat from an urban city, and they were networking. I watched politics (how it should work) happen organically with two women who shared a love for public service. This project has taught me three key lessons: 1. The message is worth the madness. We were able to spread our message that women's political involvement is important and can be transformational when it is made a priority. Any of the difficultly that we may have faced along the way was well worth it. 2. Not only is the personal, political but also the political is often better executed when it is personal. The research and our panelists attested to the fact that there is a dire need for more women in office in order for issues that affect women to be adequately advocated for. Another example would be my personal connection to this project, made me invested enough to see it through to the end. 3. Social justice based women's leadership has been and will continue to be a force to be reckoned with. During this process I have been inspired by the social action projects of my classmates and how we have rallied together to support one another. The bond we created through this experience has strengthened me and I am truly grateful to have had this opportunity.
By Jean Sinzdak, Director, Program for Women Public Officials, Center for American Women and Politics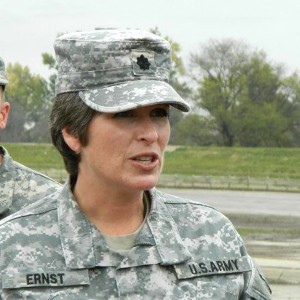 In January, Joni Ernst (R-IA) will be among the 104 women serving in the 114th US Congress. In addition to being the first woman elected to represent Iowa in Washington, Ernst made history in November as the first woman veteran elected to serve in the US Senate. She will join fellow veterans Tulsi Gabbard (D-HI) and Tammy Duckworth (D-IL), who made history in 2012 as the first female combat veterans elected to serve in the US House, and Martha McSally, who was elected to the House this year from Arizona. With these additions, six women veterans will have served in Congress. (Former Representatives Catherine Small Long (D-LA), Heather Wilson (R-NM), and Sandy Adams (R-FL) round out the group.)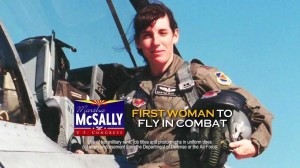 CAWP's research indicates that women bring different priorities and experiences to public life, and women officeholders help make government more transparent, inclusive and accessible. Women public officials – elected and appointed – have an impact on public policy that ultimately affects the entire population of the state, region and nation. Today there are an estimated 2.2 million female veterans, and they represent one of the fastest growing segments of the veteran population – about 10 percent of the total 22 million veterans in this country. Women veterans have already put their country first by serving in the military; they are exactly the kind of people we need as public leaders. And recognizing the distinctive experiences of women in the armed services, it's clear that women vets will bring especially valuable insights to Congress. CAWP has partnered with the Department of Veterans Affairs' (VA) Center for Women Veterans to help women veterans develop skill sets to prepare them for public and community service opportunities within their communities. The Center for Women Veterans, created in 1994 to monitor the VA's administration of benefits and services to women Veterans and to advise the Secretary on the VA policy's impact on Women Veterans, will advise CAWP on how it focuses its resource information to address women veterans' issues. "Women veterans often contact us for information about how they can continue serving," says Elisa M. Basnight, director of the Center for Women Veterans. "This agreement with CAWP presents a prime opportunity for the Center to help prepare them for other forms of public service as it responds to a persistent need women veterans tell us they have, which is the desire to continue to make a difference after the uniform." CAWP is also partnering with Veterans Campaign, a program of the National Association for Uniformed Services, on a female leadership workshop at their Veterans Campaign Training, which will be held on Feb. 21-25, 2015 in Washington, DC. In addition, women veterans (and any women!) can attend one of the Ready to Run® programs hosted by CAWP or our partners around the country – upcoming programs can be found here. Additional campaign trainings and leadership programs can be found on CAWP's national Political & Leadership Resources for Women map. For more information about and other resources for women veterans, you can also visit the Center for Women Veterans.
Pages