Presidential Lists are Due for Disruption
Today, as we celebrate those individuals who have held our nation's highest office, it is worth taking note the absence of women from the list of 44 male presidents who have served in U.S. history. While
multiple trailblazing women
have challenged the expectations of masculine leadership in the White House, too few have received the recognition they deserved or the votes they needed to be labeled as "viable" contenders.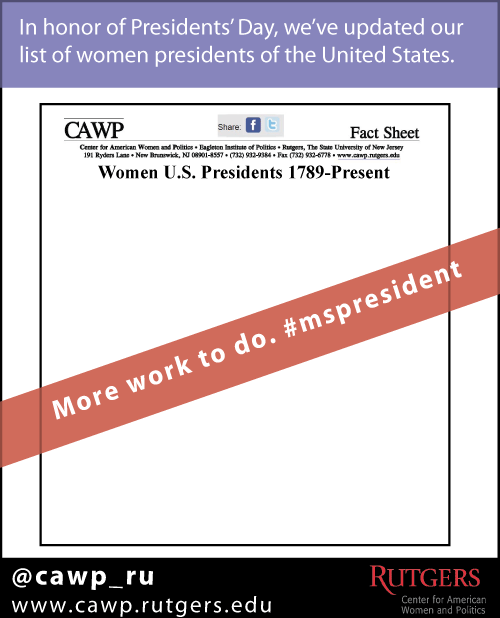 The words "woman president" today often cue "Hillary Clinton" among peers, colleagues, family, and friends. Too few people think of Margaret Chase Smith's
historic bid
in 1964, as the first woman to have her name placed in nomination at a major party convention; or
Shirley Chisholm in 1972,
who was the first woman and the first African American to have her name placed in nomination for the presidency at a Democratic National Convention, winning 151.95 delegate votes; or even
Victoria Woodhull in 1872
, who campaigned for the presidency before women could even vote nationwide. It's true the 18 million cracks Hillary Clinton made in the proverbial "marble ceiling" of presidential politics may have made it less remarkable for a woman to be taken seriously as a presidential contender, but, as Dr. Ruth Mandel has
written
, the women who ran before her were instrumental in "
[making] the idea [of a woman president] less outrageous to conceive." 
Hillary Clinton is not only viewed as the most viable women who
has run,
but supporters and opponents alike view her as the most likely woman who
will run
in 2016. Consistent with all things Clinton, the attention paid to a possible Hillary Clinton candidacy in 2016 is already extreme. Thirty-three months before Election Day 2016, major news outlets like
Time Magazine
and the
New York Times Magazine
have made Clinton's potential bid their cover stories, and few of Clinton's public appearances go by without
analysis
over what they indicate about her campaign strategy. But as the assumptions of a Clinton candidacy grow stronger, the idea that she is
the
(cue:
only
) woman candidate in 2016 is not only unfair to the many qualified women who could be added to the Democratic
and
Republican short lists (see Kasie Hunt's
commentary
on this here), but also places a great deal of pressure on Clinton. While Democratic short lists for 2016 have included more women than in the past – floating Senators Warren, Gillibrand, and Klobuchar in addition to Secretary Clinton, men's names outnumber women's names, and few Republican short lists have included women amidst a very open, and arguably weak, Republican field. When women like Governor Susana Martinez are discussed, they are often considered as potential Vice Presidential nominees instead of among those likely to top the party ticket. These short lists are not only important in the horse race, but present cues to voters about who is qualified to run for president. And though women's stables of elected officials remain smaller than men's at all levels, there are just as many qualified women – Democrats and Republicans – as men to seek a home in the Oval Office.  So as we reflect on the absence of women on the list of U.S. presidents to date, let's also question the dearth of women's names floated as potential presidential contenders.