Shirley Chisholm's Birthday Gift: Support Black Women Candidates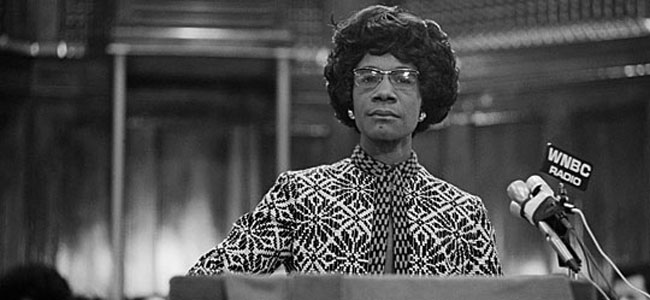 Fifty years to the day that Shirley Chisholm became the first Black woman elected to the U.S. Congress, five new Black women won seats in the U.S. House. In January, they will join 17 other incumbent Black women representatives, two Black women delegates, and one Black woman senator to represent the largest cohort of Black congresswomen to ever serve in Congress. Black women also surpassed the previous high for U.S. House nominations. In 2014, 29 Black women were major party nominees to be voting members of the U.S. House. In 2018, 41 Black women were on general election House ballots nationwide.
None of the five new Black congresswomen had an easy path to success in 2018. Three challenged incumbent officeholders in the primary or general election, two won their primary nominations without the endorsement of their party, and another challenged stereotypes of not only race but religion in becoming one of the first Muslim women elected to Congress. Their resilience and determination in the face of these challenges mirrors that of Chisholm, who described her motivation to run for president in 1972 in the face of seemingly insurmountable obstacles in this way: "The fact of the matter is we cannot continue to take things as they are…when we see around us that government is not responsive to certain segments of the population."
Disrupting the status quo and enhancing the representativeness of Congress continued to be a motivating force for Black women candidates in 2018. In fact, three of the five new Black congresswomen elected in 2018 will be the first Black women to represent their states in Congress: Jahana Hayes (D-CT), Ayanna Pressley (D-MA), and Ihan Omar (D-MN). They will also be the first women of color to serve in their states' congressional delegations.
While their success is worthy of celebration, the fact that we are still celebrating firsts for Black women in Congress five decades after Chisholm's win also reflects the persistent underrepresentation of Black women in American politics – and that underrepresentation was not remedied in this record-setting year for women. Black women were about 5% of all House nominees in 2018 and will be just 4.1% of members of Congress in 2019, despite representing nearly 8% of the U.S. population. And consider this: after new members are sworn in next year, just 43 Black women will have ever served in Congress (of more than 12,000 members who held congressional office in U.S. history).
Even starker, only two Black women have ever served in the U.S. Senate and no Black women were major party nominees for the Senate in 2018. Likewise, Black women's representation in statewide elected executive offices has been – and will remain – especially low. In a year when Stacey Abrams (D-GA) made history as the first Black woman to win a gubernatorial nomination nationwide and Black women were about 12% of all women nominees for statewide executive offices, they were just 2 of 65 women who won statewide executive posts on Election Day (two Black women incumbents were not up for election this year and will hold statewide executive posts in 2019). Both Black women winners were firsts in their states; Tish James became the first Black woman elected statewide (statewide executive office or U.S. Senate) in New York and Juliana Stratton became the first Black woman elected to a statewide executive post in Illinois.
These women candidates are doing the work that Shirley Chisholm did fifty years ago to push through durable barriers to Black women's political representation. Especially at the statewide level and in majority-white districts, Black women candidates are challenging the idea – too often embraced by political power-brokers – that they cannot appeal to non-minority voters. Look at Representative-elect Lauren Underwood (D-IL), who defeated a four-term Republican incumbent in an Illinois House district where 86% of constituents are white. And despite falling just short of success, Stacey Abrams (D-GA) won a greater percentage of Georgia voters than any other (white male) Democratic nominee since 1998.
There is much to celebrate for Black women in politics in 2018 that goes beyond candidacy and officeholding, including their power at the ballot box and on the front lines of activism and advocacy. But in the spirit of Shirley Chisholm and in honor of what would be her 94th birthday, let's pair that celebration with a call to action.
Recruit and support Black women candidates. Push back against the biases that doubt Black women's electoral viability. And help us to move beyond first and only Black women across levels and types of office. Fifty years after Shirley Chisholm became the first Black woman in Congress, these may be the best gifts you could give to invest in the next generation of her "unbought and unbossed" legacy.