The Hazel Frank Gluck Award acknowledges the accomplishments of NEW Leadership™
New Jersey alumnae who have emerged as inspiring advocates, candidates and community leaders.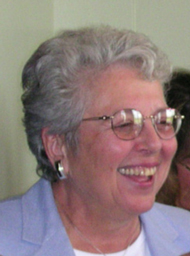 The Honorable Hazel Frank Gluck is respected in New Jersey and beyond for her distinguished public service career in elected and appointed offices, including service in Governor Thomas Kean's cabinet.
The Hazel Frank Gluck Award will be presented at the NEW Leadership™ New Jersey keynote dinner on Friday, June 8, 2018.
The recipient will receive an unrestricted cash award of $500.
Eligibility
To apply for the Hazel Frank Gluck Award, you must have completed the six-day NEW Leadership™ New Jersey program in 2013 or earlier.
Selection Criteria
The Hazel Frank Gluck Award will be given to a NEW Leadership™ New Jersey alumna who has used the knowledge and experience gained from NEW Leadership™ to inspire others and make a difference by:
Expanding leadership opportunities for young women and girls, especially those from at-risk and underserved communities, or;

Encouraging more women to get involved in politics and public service, or;

Taking a leadership role to make a difference in her community.
Requirements
Personal statement of no more than 500 words describing how you meet the criteria listed above. Please indicate the year that you participated in NEW Leadership™ New Jersey.

A letter of recommendation from an employer, supervisor, professor or mentor

2016 Hazel Gluck Award winner Chrissy Buteas (center).

Resume

One-page supporting document, such as a news article (optional).
All application materials must be submitted in PDF, Doc, or DocX format to Director of NEW Leadership, Christabel Cruz, at christabel.cruz@rutgers.edu under subject heading "Gluck Award."
Applications must be received by Friday, May 11, 2018.