The drop in Republican women's representation in the U.S. House – down to 13 women who hold just 6.6% of all Republican House seats – garnered national attention amidst what was otherwise perceived as a "year of the woman" in American politics. But the problem of Republican women's underrepresentation is not isolated to Congress. Not only are Republican women underrepresented as a proportion of women and Republican state legislators, but they also hold less power in the state legislatures with the greatest potential for them to make policy change.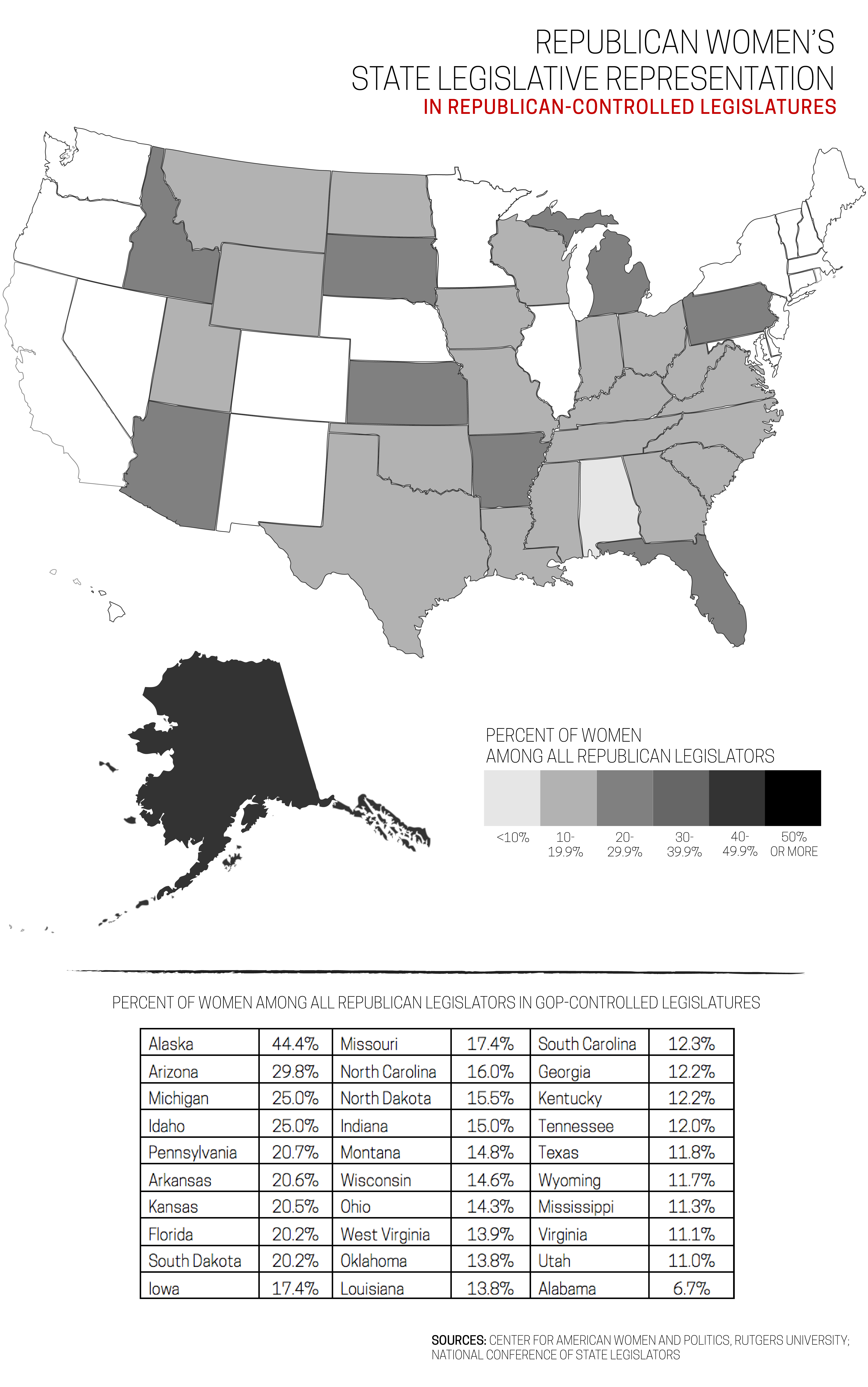 Perhaps most notably, Republican women are only 16% of Republican state legislators in states where Republicans control both state legislative chambers, while they are 20.7% of Republican legislators in states where the GOP is in the minority. The reverse is true for Democratic women; in states under Democratic control, women are slightly better represented (43.1%) than in states where they are not in control (40.6%). Thus, Democratic women legislators are better positioned to influence policy agendas and outcomes than their Republican counterparts.
We can cut the numbers other ways, too. While women are 41.9% of all Democratic state legislators nationwide, they are just 17.2% of Republican state legislators. Democratic women are at or above parity with their male partisans in nine state legislatures (Arizona, Colorado, Georgia, Idaho, Maine, Montana, Oregon, Nevada, and Utah), while Hawaii is the only state where Republican women are equally represented with men in their (highly-underrepresented) party (women are 3 of just 6 Republicans serving across both chambers).
There is only one Republican-controlled state legislature where Republican women near parity with men; in Alaska today, women are 44.4% of all Republican officeholders. In the Alaska House, Republican women fall just short (47.8%) of parity with men in their party's caucus. Alaska is an outlier in other ways, too, as home to the only Republican-majority state legislature where Republican women are better represented in-party than Democratic women (Democratic women hold 31.8% of their party's seats), and as one of just five states where a Republican woman currently serves as senate president or senate president pro tem (43 Republicans hold those posts nationwide).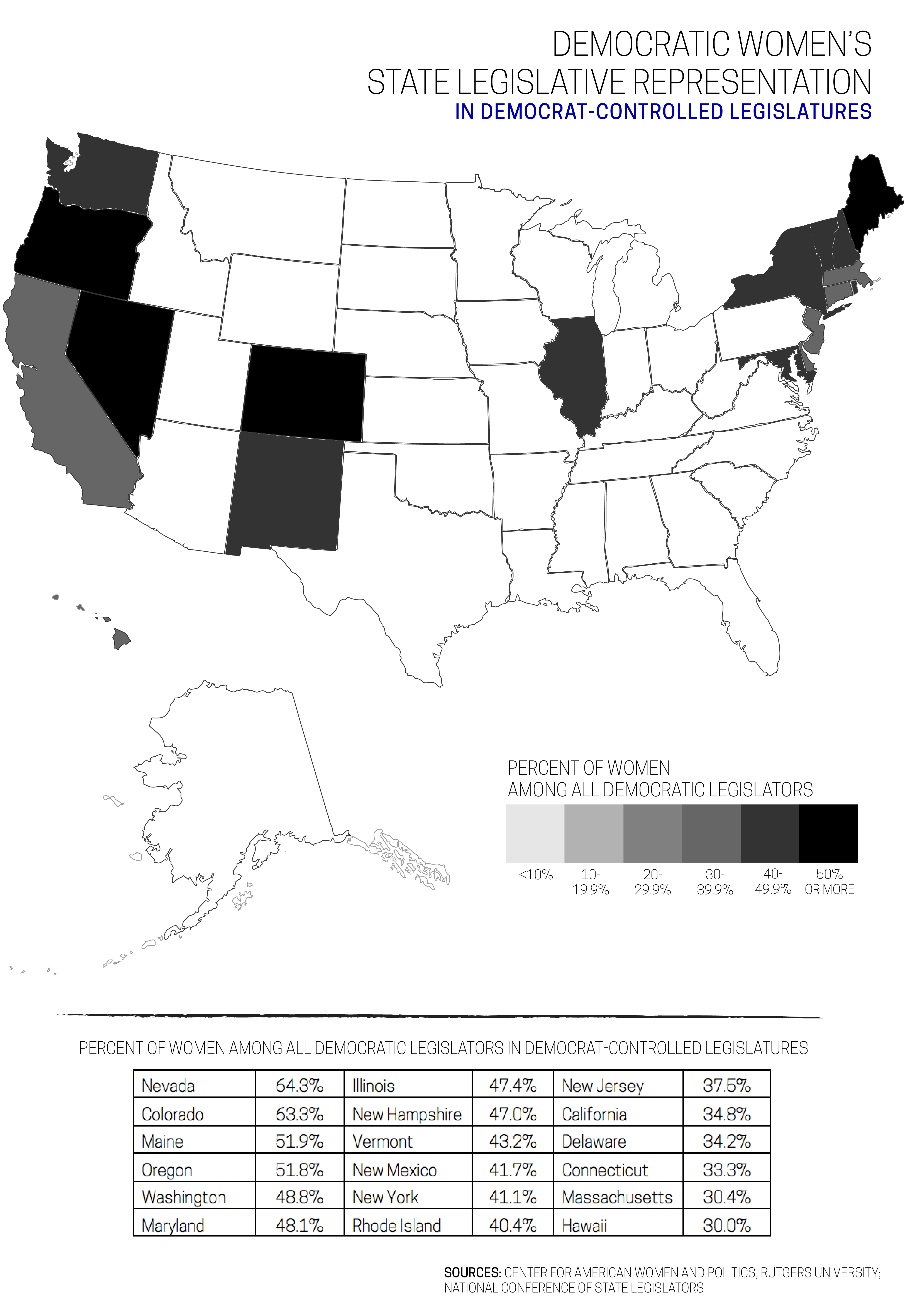 Apart from Alaska, Republican women hold no more than 30% of their party's seats in the other 29 state legislatures under Republican control. In contrast, women hold at least 30% of Democratic seats in the 18 state legislatures currently under Democratic control. Democratic women actually outnumber Democratic men in four state legislatures: Nevada – where women are the majority of all state legislators for the first time in history, Colorado, Maine, and Oregon.
Republican women are also less likely to hold top leadership spots in state legislatures where Republicans are in control. Of the 23 women who hold top state legislative leadership posts (senate presidents or presidents pro tem, or speakers of state houses), six (26%) are Republicans and 17 (74%) are Democrats. Women are 11.6% of Republican senate presidents and presidents pro tem, while they are 42.3% of Democrats who hold the same posts. Likewise, while women are nearly one-third of Democratic House speakers nationwide, just one of 30 Republican House speakers is a woman.
These data demonstrate that the dearth of Republican women in state legislatures overall is compounded by even more severe underrepresentation among those leading state legislative chambers. While the narrative around women's political underrepresentation has focused on federal offices, it's important to note that this problem persists at the state legislative level. That is, unless you're in Alaska.