New Jersey
Rising Stars: Educating Asian American Women for Politics
---
Register now for Rising Stars and Ready to Run® 2023! 
March 17-18, 2023 at Rutgers University-New Brunswick 
More details and registration information
 
---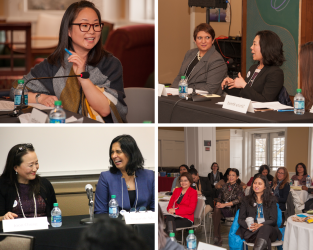 CAWP, together with a steering committee of Asian American women leaders, sponsors Rising Stars: Educating Asian American Women for Politics, a preconference session of the Ready to Run® Campaign Training for Women. Rising Stars participants attend a half-day session that targets issues of particular interest to Asian American women running for political office.  Rising Stars participants then attend Ready to Run® to learn about the nuts and bolts of working on a campaign. 
Ready to Run® offers a unique opportunity for potential women candidates to hear directly from prominent elected and appointed leaders, campaign consultants, and party officials about how to get Ready to Run. Topics covered include fundraising, navigating the political parties, working with the media, and developing a campaign plan. More details on Ready to Run®.
Rising Stars Steering Committee
(Affiliations listed for identification purposes only.)
Azra Baig
Member, South Brunswick Board of Education
Uyen "Winn" Khuong
Executive Director, Action Together New Jersey
Cecilia Xie Birge
Former Mayor, Montgomery Township
Rupande Mehta
 
Zainab Chaudary

 

Thuy Anh Le
Former Member, Hillsborough Township Board of Education
Jannie Chung
Councilwoman, Borough of Closter
Toral Patel
 
Ludi Hughes
President and Founder, Asian American Chamber of Commerce
Cheryl Quinio-Blodgett
Filipino American Political Action Committee
 
S. Nadia Hussain
Co-Founder, Bangladeshi American Women's Development Initiative
Sapana Shah
Councilwoman, Township of Edison
 
Tina Liu Jen
Morris County Human Relations Commission and
80-20 Initiative of New Jersey
Jean Trujillo
Member, Hillsborough Township Board of Education
 
Khyati Y. Joshi
Fairleigh Dickinson University