New Jersey
ELLA Wins (Elections & Leadership Latina Academy)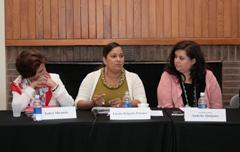 CAWP together with a steering committee of leaders in the Latina community, sponsor ELLA Wins (Elections & Leadership Latina Academy), a pre-conference session of the New Jersey Ready to Run® Campaign Training for Women. ELLA Wins participants attend a half-day session that targets issues of particular interest to Latinas running for political office.  ELLA Wins participants then attend Ready to Run® the next day to learn about the nuts and bolts of working on a campaign.  
Ready to Run® offers a unique opportunity for potential women candidates to hear directly from prominent elected and appointed leaders, campaign consultants, and party officials about how to get Ready to Run®.  Topics covered include fundraising, navigating the political parties, working with the media, and developing a campaign plan.  More details on Ready to Run®.
ELLA Wins Steering Committee
(affiliations for identification purposes only)
Peggy Anastos
LUPE Fund, Inc.
Iveth Mosquera
LUPE Fund, Inc.
Diana Calle
LUPE Fund, Inc.
Andrea Martinez-Mejia
Latina Civic Foundation
Grissele Camacho
Latina Civic PAC
Sara Peña
President, LUPE Fund, Inc.
Milagros Camacho
Latina Civic PAC
Milagros Peralta
LUPE Fund, Inc.
Patricia Campos Medina
Latina Civic PAC
Arlene Quiñones Perez, Esq.
Latina Civic PAC
Maria Del Cid
 
Cristina Pinzon-Coll
Stateside Affairs
Zulima V. Farber, Esq.
Latina Civic PAC
Lillian A. Plata, Esq.
Nee Plata Law LLC
Lucía Gómez-Jiménez
LIUNA, Local 78 and Latina Civic PAC
Gloria Soto, Esq.
LUPE Fund, Inc.
Laura Matos
Kivvit
Noemi Velázquez
Latina Civic PAC
Questions? 
Contact Pooja Prabhakaran at (848) 932-8566 or pprabha@eagleton.rutgers.edu.