We know that women are on the front lines of the fight against COVID-19. According the U.S. Census Bureau, women hold 76% of all heath care jobs. More specifically, women are over 85% of registered nurses nationwide, dominating one of the groups battling coronavirus via patient care in hospitals nationwide. Women are also 31 of 50 (62%) of state health officials that are stepping up to lead states through this crisis, as I noted in a post last week.
But we know that the effects of COVID-19 are being felt at a more local level. The virus has hit cities across the United States, with particularly swift rates of infection in some of the nation's largest urban centers. Here, women are among city executives managing the response. Among the 100 largest (in population) cities in the U.S., 27 had women mayors as of September 2019.  More than one-third (10) of those 27 women are women of color, including 7 Black women, 1 Latina, and 2 women who identify as Asian American or Pacific Islander. Of the 1,366 mayors of U.S. cities with populations 30,000 and above, 300, or 22.0%, were women as of September 2019.
Women mayors in all U.S. cities – big or small – are key players in combating COVID-19 in ways that most directly affect our everyday lives. Their leadership, in coordination with health professionals and state and federal political leaders, should not go unnoticed in the fight against coronavirus. There are too many individual women mayors to highlight here, but I have included some examples below of women mayors who are working hard to keep their cities' citizens safe, as well as how they are doing it.
Seattle, WA: Mayor Jenny Durkan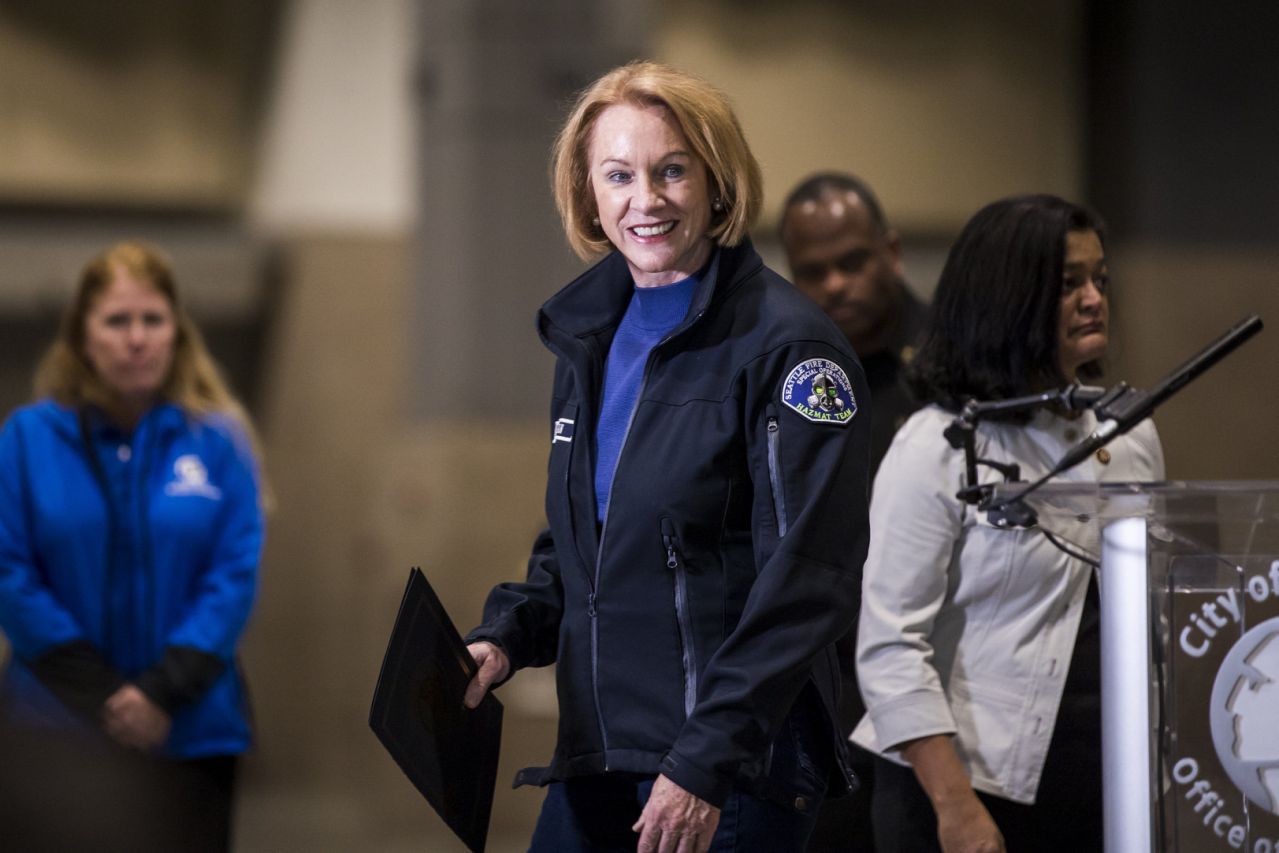 Mayor Jenny Durkan was elected mayor of Seattle, Washington in November 2017, becoming the first woman to lead the city in nearly a century and the first lesbian to hold the office. Prior to becoming mayor, Durkan served as the U.S. Attorney for the Western District of Washington; she was the first openly gay U.S. Attorney in history.
When Seattle become the nation's first hot spot for the coronavirus in early March, Mayor Durkan swiftly coordinated her response with Washington Governor Jay Inslee. The day after learning about the first cases of COVID-19 in her city, Durkan signed a civil emergency proclamation for Seattle. About 10 days later, she issued a warning to mayors across the country, sharing what she felt they needed to know about the virus in a Washington Post op-ed. Committed to ensuring that her city's residents maintained access to essential needs like food and shelter, she issued a moratorium on evictions and announced a grocery store voucher program for vulnerable citizens within two weeks of issuing the civil emergency. She also approved a program to provide free child care for essential workers.
By the end of March, the data demonstrated that Seattle's response to the coronavirus was working. Mayor Durkan again shared what she had learned with other leaders across the country, telling Bloomberg Harvard, "People are scared, confused, and getting mixed messages from the national and local level. I think people will trust their local leaders. You have to be transparent about the seriousness of the situation and how difficult it is – and is going to get – but you also have to do it in a way that does not create panic." Durkan explained how and why she made key decisions in the fight against COVID-19 in her city and offered suggestions about how other cities, states, and the federal government can coordinate the most effective response. She noted, "I would say you can't go it alone, but you also can't assume that you should wait for anyone else to make the decisions."
San Francisco, CA: Mayor London Breed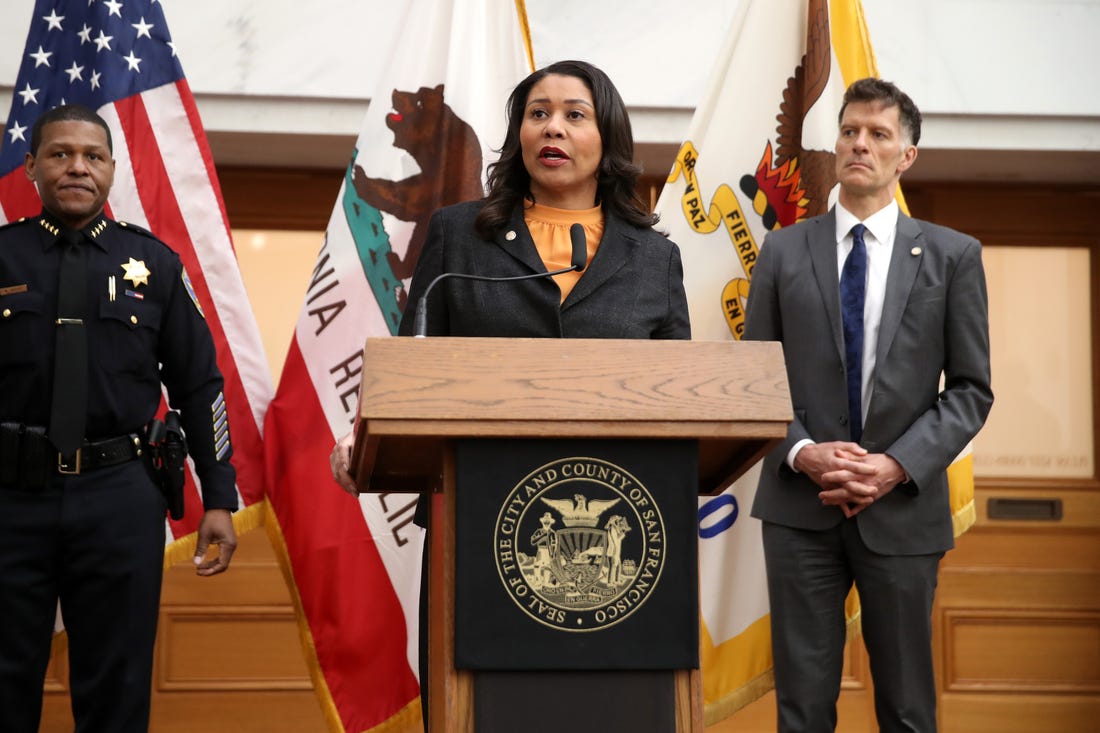 Mayor London Breed became San Francisco's first Black woman mayor in July 2018 (she previously served as Acting Mayor from December 2017 to January 2018). Prior to becoming mayor, Breed served on the San Francisco Board of Supervisors, as a San Francisco Redevelopment Agency Commissioner and a San Francisco Fire Commissioner. She was also Executive Director of the African American Art & Culture Complex in the Western Addition for over a decade.
Mayor Breed's early and strong response to COVID-19 has been touted as not only key to curbing her city's rates of coronavirus cases and deaths, but also influential nationwide. A new profile of Breed from The Atlantic explains, "San Francisco and the broader Bay Area have emerged as a national model for how early and aggressive action can prevent the explosive rise in cases that has overwhelmed hospitals in New York, where leaders were slower to respond." Under Breed's leadership, San Francisco became the first major city in the U.S. to activate their emergency operations center in late January, preparing for a possible outbreak. In early March, after just 2 cases were confirmed in the city, the mayor and her team issued "aggressive recommendations" to limit social gatherings and cancel all non-essential events like concerts and sporting events. An official ban on non-essential events of 100 or more people was imposed on March 13, and while the city had fewer than 50 confirmed cases of coronavirus at the time, the mayor imposed a citywide shelter-in-place order starting on March 17. San Francisco became the first major city to shelter in place in response to COVID-19, with the state of California following suit just two days later. 
In addition to taking early action, Mayor Breed has been attentive to the distinct needs of the city's homeless and first responders. The city's Department of Children, Youth, and their Families is providing emergency child and youth care to San Francisco's first responders, healthcare workers, and other essential city employees. In response to an outbreak in one of the city's shelters, Breed has emphasized the city's continued efforts to prevent spread in sites of congregate living. In her recent interview with The Atlantic, Breed cautioned, "San Franciscans are complying and people have been incredible with following this [shelter-in-place] order. But on another note, there are a lot of folks who are not. And I am not comfortable letting up."
Chicago, IL: Mayor Lori Lightfoot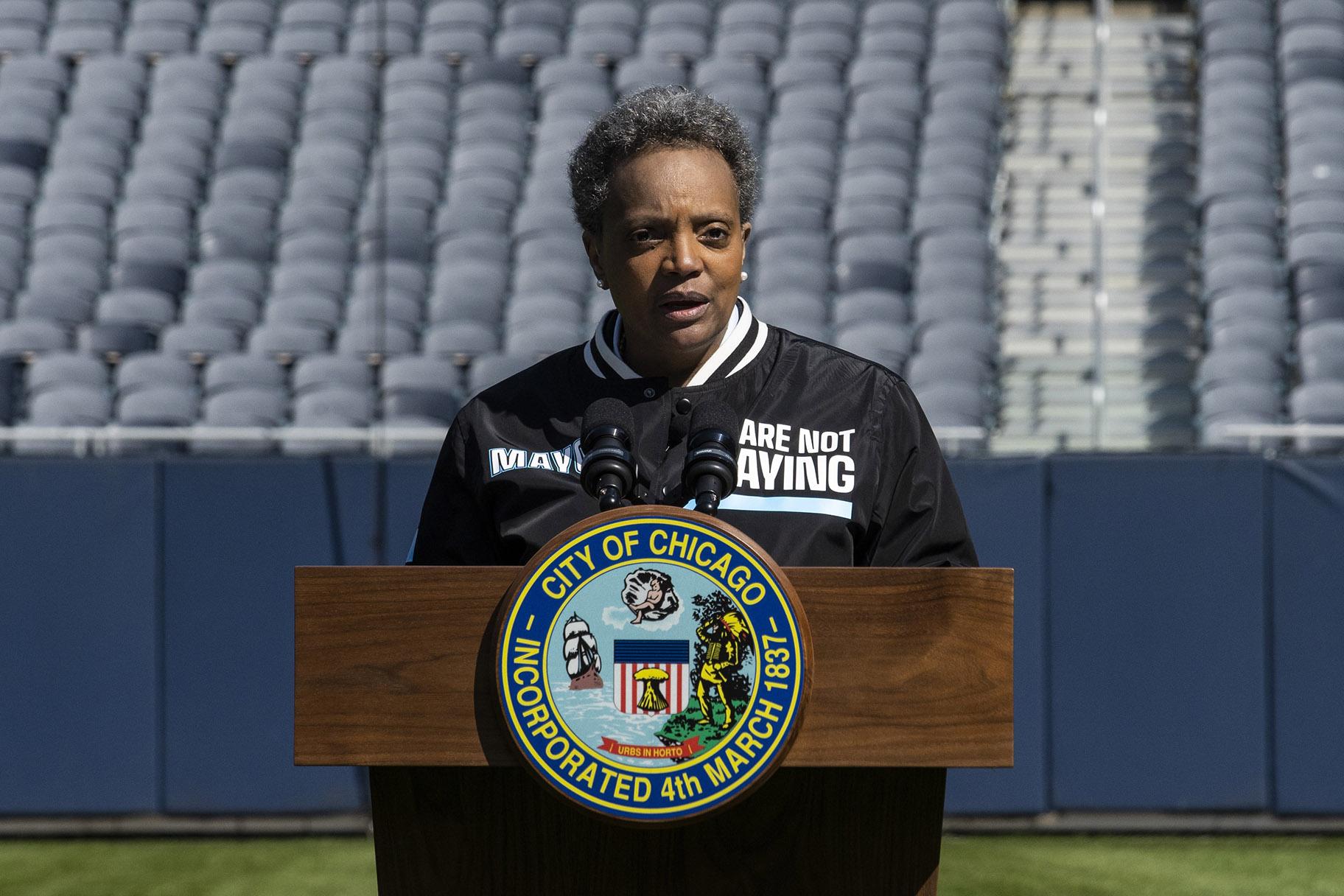 Mayor Lori Lightfoot was elected mayor of Chicago in May 2019, becoming the city's first Black woman and first openly gay mayor. Prior to becoming mayor, Lightfoot served in various roles in city government, was Assistant U.S. Attorney in the Northern District of Illinois criminal division, and most recently was a partner in private practice at Mayer Brown LLP.
With the Chicago Department of Health and the Office of Emergency and Management and Communications (OEMC), Mayor Lightfoot began managing Chicago's response to coronavirus at the beginning of March, coordinating the city's COVID-19 Taskforce. In late March, both Surgeon General Jerome Adams and Dr. Deborah Birx, Coronavirus Response Coordinator for the White House Coronavirus Task Force, added Chicago among the hot spots for coronavirus in the U.S. Their announcements came about a week after Mayor Lightfoot joined Governor JB Pritzker in issuing a stay at home order for entire state of Illinois, including Chicago. At the same time, Lightfoot announced a small business relief fund and additional resources that would go to Chicago Public Schools (CPS) and the Greater Chicago Food Depository. She also announced a partnership with Sittercity to help match essential workers with child care.
By early April, Chicago joined a small number of municipalities in beginning to report COVID-19 testing, infection, and outcome data by race. Communities of color are being hit the hardest by the virus. Data reported from New York City last week showed the Latinx community suffering most, with Black New Yorkers also over-represented in coronavirus-related deaths. In Chicago as of last Saturday, Black residents accounted for 70% of deaths while only making up 29% of the city's population. In response, Mayor Lightfoot has announced that Chicago will form a Racial Equity Rapid Response Team to confront and mitigate the racialized outcomes present in the COVID-19 crisis. She explained, "This is a call-to-action moment for all of us. When we talk about equity and inclusion, they are not just nice notions. They are an imperative that we must embrace as a city. And we see this even more urgently when we look at these numbers."
Mayor Lightfoot has taken to the streets and to the internet to push mitigation efforts in her city, often using humor as a way to engage citizens in her efforts to fight COVID-19. At the end of March, she issued a public service announcement as part of the Stay Home, Save Lives initiative. By early April, various memes of the mayor were being circulated online to communicate the seriousness with which she was taking the stay at home order. Lightfoot has shared many of them on her own social media accounts, garnering city-, state-, and nationwide attention. Only reinforcing her role as the enforcer of the city's stay-at-home efforts, Lightfoot also made news last week for driving around the city and yelling at crowds of people to go home (she has warned she will continue to do this if citizens are not obeying the stay at home order). She explained, "I mean what I say: We have to protect ourselves. We have to be smart about what we're doing in the course of this pandemic. And if it means that I drive around and check whether people are in compliance, I'm happy to do it."
Just a friendly reminder from your Auntie to stay home. #StayHomeSaveLives pic.twitter.com/RpX4tgRx2i

— Mayor Lightfoot #StayHomeSaveLives (@chicagosmayor) April 10, 2020
These are just a few of the women mayors whose leadership in the fight against COVID-19 has contributed to curbing its spread. Women mayors are also managing coronavirus responses in other cities identified as existing or potential COVID-19 hot spots, including Atlanta (Mayor Keisha Lance Bottoms), New Orleans (Mayor Latoya Cantrell), Salt Lake City (Mayor Erin Mendenhall), and Washington, DC (Mayor Muriel Bowser). While this is not an exhaustive list, it is important to note the particular leadership of Black women mayors across major cities most impacted by COVID-19. Of these 4 additional cities especially vulnerable to coronavirus spread, 3 are led by Black women mayors, in addition to the two Black women mayors (Breed and Lightfoot) highlighted above. A recent Essence profile of Black mayors' responses to COVID-19 illuminated the particular influence of Black women mayors in ensuring that coronavirus responses address the disparate impact of the virus on Black communities.
Many more women mayors are coordinating efforts in cities of all sizes across the U.S. to be sure that their communities stay safe and to prevent spread among their citizens. Their leadership in this crisis is essential and places them on the front lines in the nation's fight against COVID-19. For that, we should all be grateful.