Sometimes the Best Political Role Model is your Mom
Often when we talk about political role models, we think of the most visible politicians: the President, a prominent historical figure or a current newsmaker. We assume we can learn most about politics by emulating those who hold the greatest political power. But this Mother's Day, I'd like to make the case that some of our best political role models in life are our moms – whether they identify as political or not. Moms play an essential role in shaping their daughters' (and sons') perceptions of service, politics, and leadership. According to
research done by Dove
, 66% of girls say their primary role model is their mom. At a pivotal age for developing confidence and character, girls look to their mothers for guidance and watch carefully the behaviors they espouse and the values they prescribe. My mom – relatively apolitical by traditional standards – has been my political role model. First, she embodies the ideal of service to others above herself. Whether caring for her children, her parents, or her clients, my mom reminds me that making someone else's world a bit better brightens yours. Second, my mom has always been a leader. Both in and out of the household, my mom has never stepped down from a challenge, has been a source of support and stability for her family and her community, and has paired independence of thought and action with recognition of the interconnectedness among all of us. Third, my mom embodies retail politics. While she might just call it "being friendly," my mom's ability to empathize with nearly everyone she meets is a skill for which many politicians (and their staffs) strive. As Congresswoman Donna Edwards (D-MD) recently said about her own mother at
CAWP's Lipman lecture
, "I'll tell you who I'm glad I never had to run against: my mother." Same here, Congresswoman. Finally, my mom instilled in me the values that inspire me today to engage in politics and to encourage others to do the same. My mom lives her life based on a very simple motto: "do good things." Watching her work to make the world just a little better than she found it compels me to do the same. For her, that means making a difference in the daily lives of the elderly by providing direct care. For me, it means getting more women in political leadership and taking an active role in policy debates and discussions.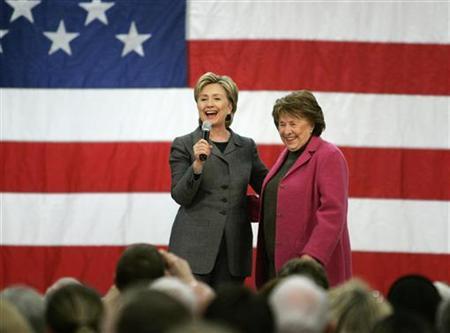 Hillary Clinton with mother Dorothy Rodham in 2008
I'm in good company in crediting my mom for my political drive. Hillary Clinton frequently credits her mother – Dorothy Rodham – for her intellectual drive, curiosity, strength, and perseverance. The late Geraldine Ferraro often cited her widowed mother, Antonetta, as both her inspiration and most solid source of support. She
said
, "Nobody had greater confidence in me than my mother," and that confidence was essential when Ferraro became the first woman to run on a major party presidential ticket. At the recent 100th birthday celebration for her mother, Luisa, , Congresswoman Rosa DeLauro (D-CT)
shared a similar admiration
for the longest-serving alderman in New Haven history: "My mother has been my greatest inspiration. She taught me the most valuable of lessons. My mother knew the importance of helping people – she understood that politics was an avenue for change." Congresswoman Susan Brooks (R-IN) also
credits her mother and father
for instilling in her a commitment to helping others: "We didn't grow up with a lot of wealth," she's said, "but I watched (my parents) make significant contributions to the lives of a lot of people." She added, "That's what I've strived to do –– work hard, be ethical, be very grateful for all that I have, and help those less fortunate. It's something that drives me."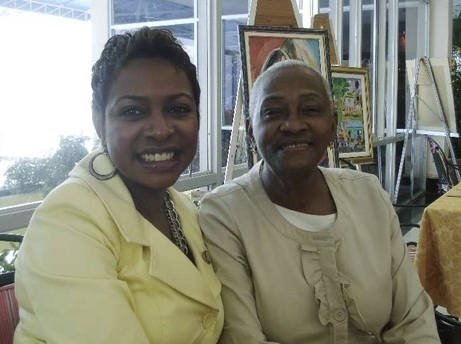 Representative Yvette Clarke (D-NY) with mother Una
The mothers of some women leaders not only taught them the values that inspired their service, but also showed them women could serve in elected office. Congresswoman Yvette Clarke (D-NY)
succeeded her mother
Una on the New York City Council before running for Congress. Former Maine legislator, Hannah Pingree, took on her role as Speaker of the State House in the same year that her mother, Chellie Pingree (D-ME), was elected to Congress. Senator Susan Collins' (R-ME) mother was Mayor of Caribou, Maine and preceded her daughter as an inductee into the Maine Women's Hall of Fame. In Michigan, State Representative Barb Byrum succeeded her mother Dianne in the state's 67th District seat. Byrum
writes of her mother
, "It is my mother who knew early on that I would run for public office, even though I was not interested in politics at the time. It is my mother who guided me through life's challenges. My mother did so much more than give me life. She gave me the world."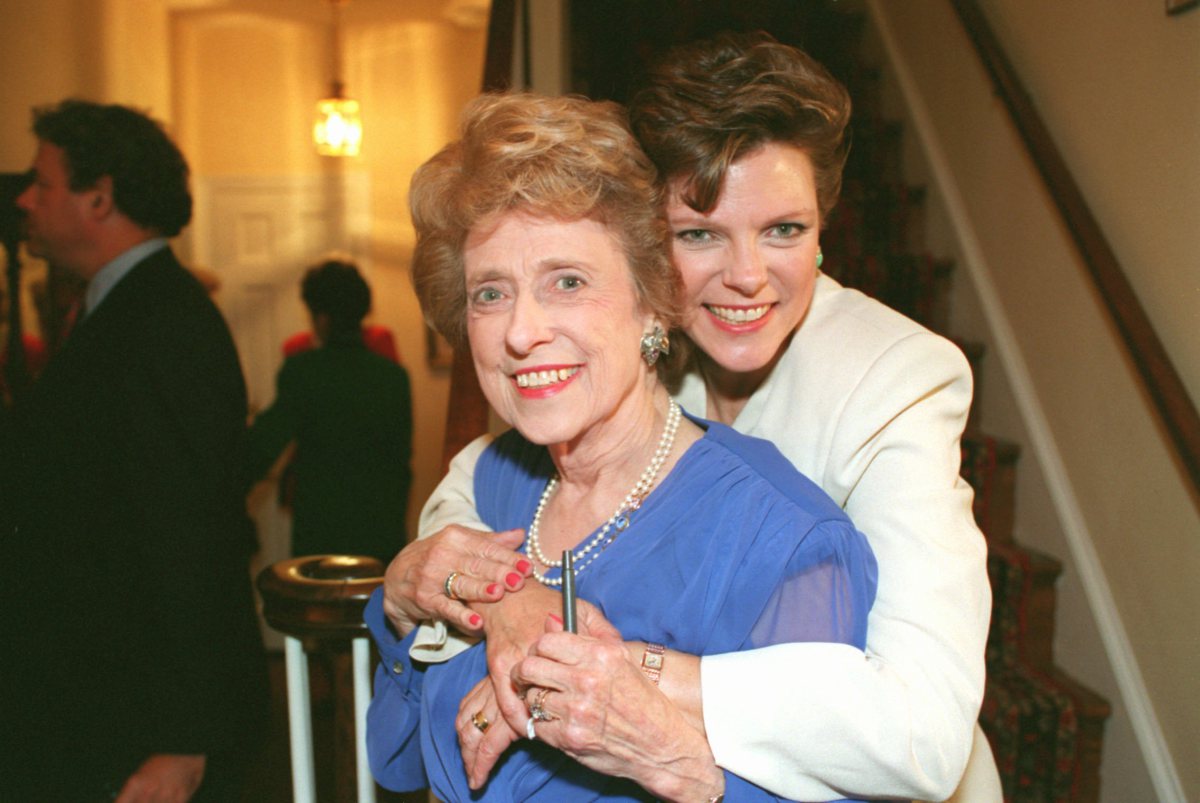 Cokie Roberts with mother Lindy Boggs
Some prominent political mothers have pointed their daughters toward other forms of public service. Cokie Roberts, author and political contributor to ABC and NPR, has
called her mother,
former Congresswoman Lindy Boggs (D-LA), "a trailblazer for women and the disadvantaged." Her trailblazing no doubt influenced Roberts' own pathbreaking career, including her work honoring America's Founding Mothers. Roberts' sister, Barbara Boggs Sigmund, followed more directly in her mother's footsteps, serving as a county freeholder and then as mayor of Princeton, NJ from 1983 to 1990. Cecile Richards, the president of Planned Parenthood, frequently talks about channeling her mother, Ann Richards, in her leadership of one of the country's largest women's advocacy organizations. Calling the former Governor of Texas her "touchstone for pretty much everything," Richards
has said
, "She always said to me, 'If a new opportunity comes, you just have to take it.' I think in my day-to-day life I try to channel a little bit of Ann in that." Whether we channel our mothers in running for office, advocacy, or everyday forms of leadership, they play spark our desire and give us the tools to change the world in our own ways. The personal is indeed political, and the promise of a new generation of women leaders relies on the trailblazing women who have preceded them. So this Mother's Day, take a minute to give thanks to the moms in your life who have helped you grow, and consider how the seemingly apolitical lessons they've taught you can translate into political action and leadership. In considering your run for political office, channel mom.