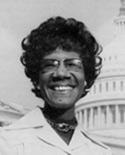 The Honorable Shirley A. Chisholm
Senator Wynona Lipman Chairholder, 2000
Shirley A. Chisholm was born in New York and grew up in Barbados and Brooklyn. She earned a B.A. from Brooklyn College and an M.A. and professional diploma in educational supervision from Columbia University. Trained as an educator, she taught in a nursery school, directed a child care center, and served as an educational consultant before running for elective office.
From 1964-68, Chisholm represented a Brooklyn district in the New York State Assembly. She rose to power after challenging the local political machine, earning early in her career the reputation of a maverick and a fighter who was, as she later titled her autobiography, Unbought and Unbossed. In the legislature she served on the education committee and pushed for the rights of the previously underrepresented, championing causes such as unemployment insurance for domestic workers, state aid to day care centers, and the rights of teachers returning to work from maternity leave.
In 1968, Shirley Chisholm became the first Black woman elected to the U.S. House of Representatives. She demonstrated her mettle immediately by protesting her assignment to the Agriculture Committee, whose work had little to do with her Brooklyn district; she was reassigned to the Veterans' Affairs Committee, still not her top choice but much more relevant to her constituents' interests. In later years, she won seats on the Education and Labor Committee and the Rules Committee, where she was better able to voice the concerns of her district. Her legislative interests focused on the needs of her community, including education, welfare, housing and employment. Known for her anti-war sentiments, she pushed for all-volunteer armed forces.
Chisholm made history in 1972 when she sought the Democratic nomination for the presidency. She campaigned across the country, ultimately winning 152 delegate votes with her uncompromising anti-war, progressive politics. Her book, The Good Fight, chronicles her campaign.
Congresswoman Chisholm retired in 1982 after seven terms in Congress and became a lecturer and teacher. Shortly after leaving Washington, she established the National Political Congress of Black Women to further the cause of political participation among Black women. She lived in Florida until her death in early 2005.
Congresswoman Chisholm's papers are archived at the Rutgers University Library.