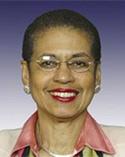 Congresswoman Eleanor Holmes Norton
Senator Wynona Lipman Chairholder, 2006 
Congresswoman Eleanor Holmes Norton is now in her eighth term representing the District of Columbia. Named by President Jimmy Carter as the first woman to chair the Equal Employment Opportunity Commission, she came to Congress as a national figure who had been a civil rights and feminist leader, tenured professor of law, and board member of three Fortune 500 companies. Norton also had been named one of the 100 most important American women in one survey and one of the most powerful women in Washington in another.
A third generation Washingtonian, the Congresswoman continues her lifelong struggle for universal human rights, working for full congressional voting representation and for full democracy for the people of the District of Columbia. She has used her background in national affairs and in law to become a leader in the House in important posts. She has served in the Democratic House leadership group and as the Democratic chair of the Women's Caucus, and she has been a member of the Committee on the Reorganization of the Congress, appointed by the Speaker when the Democrats controlled the House. Her success in writing bills and getting them enacted has made her one of the most effective legislative leaders in the House. She has the full vote in House committees and serves on the Committee on Homeland Security, the Government Reform Committee and the Transportation and Infrastructure Committee.
Her numerous accomplishments for her district also include other historic breakthroughs, among them the achievement of the right to vote on the House floor until the rules were changed in 1995; a two day debate and the first vote on D.C. statehood; and senatorial courtesy in the selection of federal judges, achieved for the first time during the Clinton administration.
Congresswoman Norton, who taught full-time before being elected, continues as a tenured professor of law at Georgetown University, teaching a course there every year. After receiving her bachelor's degree from Antioch College in Ohio, she simultaneously earned her law degree as well as a master's degree in American Studies from Yale. Yale Law School has awarded her the Citation of Merit as an Outstanding Alumna of Yale Law School, and Yale Graduate School has awarded her the Yale Wilbur Cross Medal as an Outstanding Alumna of the Graduate School, the highest awards conferred by each on alumnae. She is the recipient of more than 50 honorary degrees.
Congresswoman Norton has served on the board of the Rockefeller Foundation and the Board of Governors of the D.C. Bar Association, as well as the boards of civil rights and other national organizations.