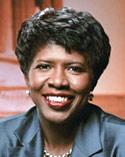 Gwen Ifill
Senator Wynona Lipman Chairholder, 2007
An accomplished political reporter with extensive experience in both print and broadcast news, Gwen Ifill was moderator and managing editor of Washington Week, the longest-running public affairs program on public television, and senior correspondent for The NewsHour with Jim Lehrer.
As managing editor of Washington Week, Ifill selected which stories to examine, chose each week's panel of news correspondents, and moderated the Q&A format. On The NewsHour with Jim Lehrer, Ifill was a familiar presence as both a correspondent and a moderator. She was also frequently asked to moderate debates in national elections, including the vice presidential debate during the 2004 election. Prior to joining PBS, she served at NBC News for five years as chief congressional and political correspondent. She also worked for many years as a print journalist reporting for The New York Times, The Washington Post, The Baltimore Evening Sun, and The Boston Herald American. Ifill passed away in Washington, DC in November 2016. 
Read Gwen Ifill's New York Times op-ed (PDF) about the Rutgers women's basketball team.