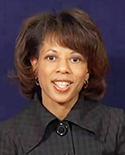 Melody C. Barnes
Senator Wynona Lipman Chairholder, 2013
Melody Barnes is CEO of Melody Barnes Solutions LLC, a domestic strategy firm, and vice provost for global student leadership initiatives and senior fellow at the Robert F. Wagner School of Public Service at New York University. Barnes also serves as a senior director at the Albright Stonebridge Group, a global strategy firm; chair of the Aspen Institute Forum for Community Solutions; and on the Board of Directors of the Marguerite Casey Foundation. From January 2009 until January 2012, she was assistant to the president and director of the White House Domestic Policy Council. 
As director of the Domestic Policy Council, Barnes provided strategic advice to President Obama and worked closely with members of the Cabinet coordinating the domestic policy agenda across the Administration. Under her leadership, innovative new policies, practices and partnerships were initiated to address significant national challenges, including education, health care and the federal government's relationship with local governments and communities. Until July 2008, Barnes was the executive vice president for policy at the Center for American Progress, a progressive research institute and think tank. From December 1995 until March 2003, Barnes worked for Senator Edward M. Kennedy on the Senate Judiciary Committee; she served as his chief counsel from 1998 until she left the Committee in 2003. Barnes' experience also includes an appointment as director of legislative affairs for the U. S. Equal Employment Opportunity Commission and serving as a principal at the D.C.-based consulting firm, The Raben Group. She began her career as an attorney with Shearman & Sterling in New York City. 
Barnes received her law degree from the University of Michigan in 1989. In 1986, she received her bachelor's degree from the University of North Carolina at Chapel Hill, where she graduated with honors in history. Her media appearances include This Week with George Stephanopoulos, The Daily Show with Jon Stewart, Charlie Rose, Morning Joe and NewsHour with Jim Lehrer. She currently resides in Washington, DC with her husband, Marland Buckner.
---
Policies that Empower: The Journey from Vulnerability to Engagement