Women and the Presidency: History & Facts
Women Presidential and Vice Presidential Candidates
Fact sheet on all women who have run for U.S. president and vice president.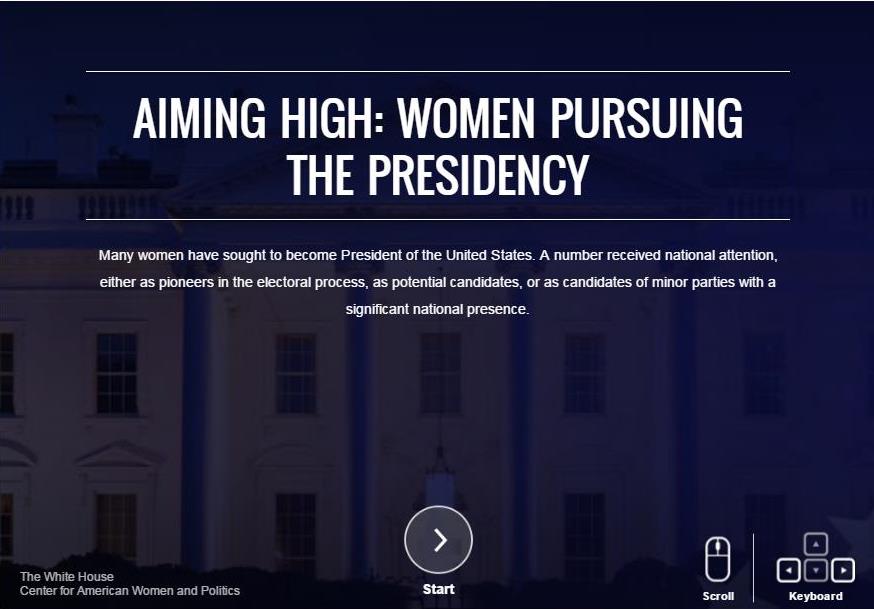 Aiming High: Women Pursuing the Presidency
A Google Cultural Institute exhibit conveying the history of American women seeking the nation's highest office in images and video.
---
Milestones for Women and the Presidency
2019
2019
In 2019, six women formally announced their candidacy for president: Representative Tulsi Gabbard (D-HI), Senator Kirsten Gillibrand (D-NY), Senator Kamala Harris (D-CA), Senator Amy Klobuchar (D-MN), Senator Elizabeth Warren (D-MA), and Marianne Williamson. This is the first time in history that more than two women competed in the same major party's presidential primary process.
2016
2016
Carly Fiorina (R) was a candidate for the 2016 Republican presidential nomination, the only woman among the GOP candidates. She suspended her campaign in February 2016 due to disappointing early primary results. In April 2016, Ted Cruz named her as his vice presidential running mate, but he suspended his campaign a week later.
In June 2016, Hillary Rodham Clinton became the first woman to be a major party's presumptive nominee for president. She formally became the first woman to be a major party's presidential nominee at the Democratic National Convention on July 26, 2016. Despite winning the popular vote by almost 3 million votes, Clinton lost the Electoral College and conceded the general election on November 9, 2016.
2012
2012
U.S. Representative Michele Bachmann (R-MN) campaigned for the Republican nomination for president. She withdrew from the race after a disappointing showing in the Iowa caucuses.
Jill Stein ran for president twice, in 2012 and 2016, as the Green Party nominee. In both cases, she qualified for federal matching funds.
2008
2008
Senator Hillary Rodham Clinton (D-NY) was the first woman to win a major party's presidential primary for the purposes of delegate selection when she won the primary in New Hampshire on January 8. She also became the first woman to be a presidential candidate in every primary and caucus in every state.
Alaska Governor Sarah Palin, selected by Senator John McCain as his vice presidential running mate, became the first woman on a national GOP ticket.
2003
2003
In February, Carol Moseley Braun (D-IL), a former U.S. Senator and Ambassador to New Zealand under President Bill Clinton, announced her decision to form an exploratory committee for a presidential bid in the 2004 election. She withdrew her name from candidacy in January 2004.
1999
1999
In March 1999, Elizabeth Dole announced her exploratory committee in a bid for the Republican presidential nomination in the 2000 election. She dropped out of the race later that year. In 2002, she was elected to the U.S. Senate from North Carolina.
1988
1988
Lenora Fulani ran for U.S. President twice, first in 1988 and again in 1992, and qualified for federal matching funds as a candidate for the New Alliance Party.
1987
1987
Congresswoman Patricia Schroeder (D-CO) made national headlines when she took preliminary steps toward making a serious run for the presidency, but she dropped out before the primaries, unable to raise the necessary funds.
1984
1984
Third-term Congresswoman Geraldine A. Ferraro (D-NY), secretary of the House Democratic Caucus, became the first woman ever to run on a major party's national ticket when she was selected by Walter F. Mondale as his Vice Presidential running mate. The ticket was decisively defeated, capturing only 13 electoral votes, and few analysts felt that Ferraro's presence had a strong impact–positive or negative–on the outcome.
Sonia Johnson ran on the ticket of the Citizens Party, becoming the first third party candidate for US President eligible for federal primary matching funds.
1976
1976
Congresswoman Lindy Boggs (D-LA) served as chairwoman of the 1976 Democratic National Convention, becoming the first woman to preside over a major party convention. Boggs was also the first woman elected to Congress from Louisiana and later served as United States Ambassador to the Holy See.
Ellen McCormack entered 20 state primaries for the Democratic presidential nomination as an anti-abortion candidate, winning 22 convention votes. She became the first woman to qualify for federal campaign matching funds and qualified for Secret Service protection. In 1980, she ran for president again as the candidate of the Right to Life Party, winning more than 30,000 votes from three states.
1972
1972
Congresswoman Shirley Chisholm ran for president in the Democratic primaries. At the party's national convention, she garnered 151.25 delegate votes before Senator George McGovern clinched the nomination. At the same convention, Frances (Sissy) Farenthold, a former Texas state legislator who twice ran for governor of that state, finished second in the balloting for the Vice Presidential nomination, receiving more than 400 votes.
Congresswoman Patsy Mink agreed to have her name appear on the Oregon presidential ballot to provide a platform to discuss opposition to the Vietnam War, force previous Democratic front-runner George McGovern to resume his antiwar focus, and hold the state's liberal votes together until its delegates reached the convention that summer. Mink received more than five thousand votes in the Oregon primary on May 23 and smaller numbers in Maryland (573) and Wisconsin (913). She made no effort to have her name placed into nomination at the Democratic National Convention.
1964
1964
Senator Margaret Chase Smith, a Maine Republican, was nominated for the presidency by Vermont Senator George Aiken at the Republican national convention. Smith had campaigned briefly for the post, limiting herself to periods when the Senate was not in session. Elected to the House of Representatives in 1940 (to replace her dying husband) and the Senate in 1948, Smith had already made history by becoming the first woman to serve in both houses of Congress.
1924
1924
Lena Springs of South Carolina chaired the credentials committee at the Democratic National Convention and received several votes for the Vice Presidential nomination.
1884
1884
Belva Lockwood, the first woman admitted to practice law before the U.S Supreme Court, ran for president on the Equal Rights Party Ticket; she did so again in 1888.
1872
1872
Victoria Woodhull, a stockbroker, publisher, and protégé of Cornelius Vanderbilt, ran for president of the United States on the Equal Rights Party ticket.
Click here for a complete list of women who have run for president and vice president.