Candace L. Straight, a pioneering woman on Wall Street and private investor, philanthropist, independent film producer, mentor, and champion of women's political equality in America, established a legacy fund at CAWP to support the collection and analysis of data on women candidates, officeholders, and voters. This data is foundational to CAWP's work and to scholars, journalists, and organizations committed to increasing the numbers of women in public leadership in the U.S.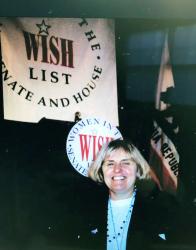 Straight was a friend and long-time supporter of the Center for American Women and Politics, regularly sharing her political expertise as a presenter at CAWP's Ready to Run® campaign trainings for women. Straight relied on CAWP's historic and current data services operation, which serves as the foundation for all of CAWP's research, education, and public service programs. Throughout her distinguished career she was appointed to high-level public leadership positions by Governors Kean, Whitman, and Christie. In 1982, she was appointed to the board of the Public Employees Retirement System by Governor Tom Kean, serving until 1988. Straight co-chaired Governor Christie Whitman's budget advisory committee and Whitman appointed her to the board of the New Jersey Exposition Authority, serving as Vice Chair from 1996 to 2003. She was a leader in organizations both nationally and in New Jersey to expand the voice of women in politics, serving as chair of the Republican Majority for Choice, president of WISH List, and co-founder of Women for a Stronger New Jersey, a political action committee supporting moderate GOP women for state and local office. For two decades, she was a presenter at CAWP's Ready to Run® campaign training programs, where she brought her knowledge and expertise to generations of women.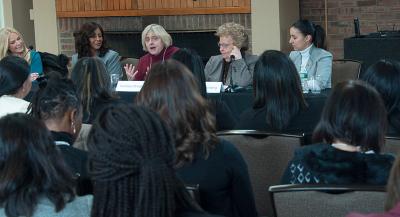 "Candy was someone I could always turn to for advice. Her insight and keen understanding of politics was unmatched and invaluable as we shaped new programs and research," said CAWP Director Debbie Walsh. "Up to her final days, she was talking about the future for women in politics, looking for solutions and ways to expand women's influence in the Republican Party, and searching for strategies to support moderate women. It was a lifetime commitment in the sincerest sense."
A life-long Republican, Straight served as a visiting associate at the Eagleton Institute of Politics for more than a decade, generously sharing her deep knowledge of public finance and her penchant for truth-telling with students, invaluable gifts for the Institute's educational mission.
"Candy believed in the Republican Party, but she wasn't interested in party purity. She maintained relationships, personal and professional, with people across the political spectrum," said Eagleton Director John J. Farmer Jr. "She was committed to a better democracy and the often difficult but always necessary task of working across parties and between people to make our democracy function for everyone. Most of all, she believed that women's increased participation in American democracy was a key to strengthening it."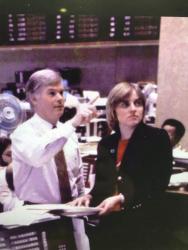 During Straight's pathbreaking career as a principal of a private equity firm and investment-banking consultant, she worked for a number of corporations including, Merck & Co. Inc., Bankers Trust Company, Neuberger and Berman, and served as an advisory director of Securitas Capital, L.L.C., a global private equity investment firm specializing in insurance and financial services related industries. She served on numerous corporate boards including Montpelier Re, the Integon Corporation, and National Atlantic Holdings. As an independent film producer, Straight served as executive producer of EQUITY, the first female-driven Wall Street film starring two-time Emmy winner Anna Gunn playing a senior investment banker threatened by financial scandal. The film premiered January 2016 at the Sundance film festival, was purchased by Sony Pictures Classics, and released in theaters in July 2016. Straight was executive producer of the movie, AN ACCEPTABLE LOSS, starring Jamie Lee Curtis and Tika Sumpter which was released in theaters in January 2019. Straight also co-produced a forthcoming documentary on the ERA. She served on the board of Rebelle Media, a film and TV production company dedicated to providing outstanding roles for women in front of and behind the cameras.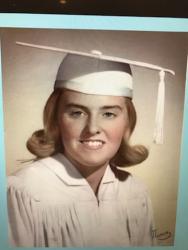 Straight was a graduate of Bloomfield High School. She received her B.A. from Wilson College and her M.B.A. from New York University. In June 1994, Wilson College awarded her an honorary Doctor of Humane Letters. A fierce advocate and generous benefactor of higher education, Straight served on the Board of Governors of Rutgers University from 2011 through December 2016 and on the Board of Trustees of Wilson College.
Straight's passion for politics was built upon her compassion for others. She was deeply devoted to her family, particularly her brother Dwight and her mother Dorothy, who was, until her passing, her constant companion at Eagleton and CAWP events. This devotion rippled outwards to her beloved lifetime community of Bloomfield, New Jersey and into her unfailing vision of a politics of mutual respect, comity, and the hard work of compromise in service of improving people's lives. In an interview with the Eagleton Center on the American Governor during her service on the Rutgers Board of Governors, she reflected on her legacy: "I hope that I've been a mentor for both women in politics and women in business."
Memorial gifts to support the Candace L. Straight Legacy Fund at the Center for American Women and Politics can be made online HERE or by check payable to the "Rutgers University Foundation/Candace L. Straight Legacy Fund" and mailed to Rutgers University Foundation, PO Box 193, New Brunswick, NJ 08903-0193, Attn: Sue Nemeth.