Fresh findings from CAWP Research Grant recipients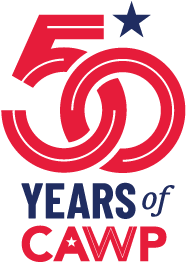 New research from CAWP Research Grant recipients Martina Santia and Sylvia Gonzalez shows distinct approaches to emotional appeals in campaign messaging from women of different racial and ethnic groups. In Harnessing the Power of Gendered Emotions: How Women of Color Use Emotional Appeals in their Campaign Messages, Santia and Gonzalez combine an analysis of over 27,000 campaign advertisements aired between 2010 and 2018 with an online survey experiment gauging voters' reactions to simulated campaign messages from a variety of hypothetical candidates. Some key findings from Santia and Gonzalez's project include:
Women of color employ different emotional appeals on the congressional campaign trail than their white counterparts and are rated differently by voters.
Women of color, and especially Black women, are less likely to employ negative emotional appeals compared to white women candidates.
Voters are more favorable towards positive messages, as opposed to negative messages, from a hypothetical Black woman candidate.
Hypothetical Latina candidates deploying positive emotional appeals received less support from women of color survey respondents compared with white women respondents, suggesting possible avenues of message modulation for Latina candidates directed at specific sub-audiences.
Read the full report here.
In this project, the authors use the term "women of color" to distinguish between the experiences of women from a racial or ethnic minority background relative to white women, while acknowledging that women from different racial/ethnic backgrounds have unique experiences. Learn more about current CAWP practice for data on race and ethnicity from our Methodological Statement on Race and Ethnicity.
About the Authors
Martina Santia is a postdoctoral scholar at the Newhouse School of Public Communications at Syracuse University. Her primary research interests include political communication, race, and gender.
Sylvia Gonzalez is a Mexican American political science Ph.D. candidate at Louisiana State University. She is working on a dissertation on Black and Brown political coalitions and various projects revolving around voting in America.
About CAWP Research Grants
The Center for American Women and Politics, a unit of the Eagleton Institute of Politics at Rutgers University, provides both small and large research grants that fund research that helps to identify and address barriers to and opportunities for women's political power; they are possible thanks to the generosity and commitment of Pivotal Ventures, a Melinda French Gates company. CAWP has thus far funded 21 projects through our CAWP Research Grants that address a wide array of issues facing women as voters, candidates, officeholders, and activists. Learn more about the program, and the 2020 and 2021 grantee cohorts, at the CAWP Research Grants page.