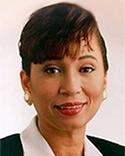 Alexis Herman
Senator Wynona Lipman Chairholder, 2001-2002
Former US Secretary of Labor
Vice President Gore swore in Alexis M. Herman, America's 23rd Secretary of Labor and the first African American ever to lead the Labor Department, on May 1, 1997. President Clinton considered his nomination of Alexis Herman for Labor Secretary an essential part of fulfilling his promises both to help parents succeed at home and at work and to give working people the skills they need to succeed in the new economy.
Secretary Herman took the President's charge to heart. Less than three months after being confirmed by the United States Senate, she surmounted her first major challenge as Secretary of Labor by successfully facilitating negotiations between UPS management and Teamsters union leaders. Those talks ended a ten-day strike that threatened to disrupt the American economy. As Labor Secretary, Herman served as CEO of an organization with a $39 billion annual budget and a workforce of 17,000 across the country. Under her leadership-and for the first time ever-the department received a clean audit opinion on its FY 97, 98 and 99 financial statements.
A recipient of more than a dozen honorary degrees from major colleges and universities around the country, Herman also lends her expertise and talent to a vast array of corporate enterprises and nonprofit organizations. She has served on the boards of directors of Cummins Inc. and Presidential Life Corporation, and as the Chairperson of the Coca-Cola Company's Employment Diversity Taskforce.
Alexis Herman's achievements in business and as Secretary of Labor are only the latest steps in a lifetime of service to America's working families. Born in Mobile, Alabama and a graduate of Xavier University, she began her career working for Catholic Charities helping young out-of-school men and women find work in the Pascagoula, Mississippi shipyard. At the age of twenty-nine, she joined the Carter Administration as the youngest director of the Women's Bureau in the history of the Labor Department. In the 1980s, she became a successful entrepreneur and labor market expert. In 1993, President Clinton appointed her assistant to the President and director of the White House Public Liaison Office. Four years later, President Clinton again selected Alexis Herman to serve as a valued member of the National Economic Council as the nation's Secretary of Labor.