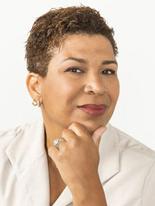 Michel Martin
Senator Wynona Lipman Chairholder, 2015
NPR Host and Commentator
Michel Martin can be heard across NPR news programs, covering topics including education, families, faith, race and social issues. Outside the studio, she hosts NPR Presents Michel Martin, a  live event series in collaboration with member stations. Martin came to NPR in 2006 and marked her debut as a full-time host by launching Tell Me More, a one-hour daily NPR news and talk show that aired nationwide from 2007-2014. She has also served as contributor and substitute host for NPR newsmagazines and talk shows, including Talk of the Nation and News & Notes.
Martin joined NPR from ABC News, where she had served as correspondent for Nightline from 1996 to 2006, reporting on such subjects as the Congressional budget battles, the U.S. embassy bombings in Africa, racial profiling and the aftermath of Hurricane Katrina. She also contributed to the network's award-winning coverage of September 11, a documentary on the Anita Hill-Clarence Thomas controversy, a critically acclaimed AIDS special, and reports for the ongoing series "America in Black and White." Martin's reporting for the ABC newsmagazine Day One earned an Emmy for coverage of the international campaign to ban the use of landmines. She was a regular panelist on This Week with George Stephanopoulos and hosted the 13-episode series Life 360.
Before joining ABC, Martin covered state and local politics for the Washington Post and national politics and policy at the Wall Street Journal, where she was White House correspondent. She has also been a regular panelist on the PBS series Washington Week and a contributor to NOW with Bill Moyers. Among the honors she has received: the Candace Award for Communications from The National Coalition of 100 Black Women; the Joan Barone Award for Excellence in Washington-based National Affairs/Public Policy Broadcasting from the Radio and Television Correspondents' Association; and a 2002 Silver Gavel Award, given by the American Bar Association. A native of Brooklyn, NY, Martin graduated cum laude from Radcliffe College at Harvard University in 1980 and has done graduate work at Wesley Theological Seminary in Washington, DC.​ More about NPR Host Michel Martin. 
---
Why I Want You to Tell Me More: On Bringing the Outsiders In