For Colored Girls Who Have Considered Politics
About the Authors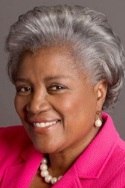 Donna Brazile is the former interim Chair of the Democratic National Committee (DNC) and the author of the New York Times bestseller Hacks: The Inside Story of the Break-Ins and Breakdowns That Put Donald Trump in the White House and the 2004 best-selling memoir Cooking with Grease: Stirring the Pots in American Politics. Brazile has worked on every major presidential campaign since 1976, and in 2000 Brazile became the first African American woman to serve as the manager of a major party presidential campaign, running the campaign of former Vice President Al Gore. A frequent news contributor, she has lectured at over 200 colleges and universities across the country and is the proud recipient of more than ten honorary doctorate degrees from major colleges and universities. She is the founder and director of Brazile & Associates LLC, a general consulting, grassroots advocacy, and training firm based in Washington, DC.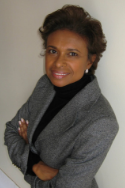 Yolanda H. Caraway has nearly thirty years of policy-making, project management and national and international political experience. Since 2008, Caraway has managed the backstage and podium operations for the Democratic National Convention. She has also served as an At-Large DNC member and was Chief of Staff to Jesse Jackson's historic second bid for president. Since founding The Caraway Group in 1987, she has led her team in the counseling of a number of well-known Fortune 500 companies, nonprofit organizations, government agencies and high-profile individuals in every aspect of communications strategy. Caraway has worked with major U.S. companies, and government and nonprofit agencies. She is a member of the Corporate Directors Group and the American College of Corporate Directors, and is a member of the advisory board of Head and Heart Philanthropy.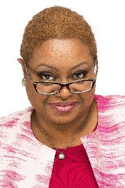 Leah D. Daughtry is president and CEO of a boutique strategic planning firm, On These Things, LLC. She started her political career on Capitol Hill and later worked for the Democratic National Committee and US Labor Secretary Alexis Herman. In both 2008 and 2016, Daughtry served as the CEO of the Democratic National Convention Committee, making her the first person in Democratic Party history to hold the position twice. Religion News Service named Leah as one of the 12 most influential Democrats in the nation on faith and values politics, based on her work with Faith In Action, the Democratic party's outreach program to communities of faith. She has also served as Resident Fellow at Harvard University's Institute of Politics and sits on the Executive Committee of the National Council of Negro Women. A graduate of Wesley Theological Seminary, she became an ordained minister in 2002 and currently serves as pastor of The House of the Lord Church in Washington, DC.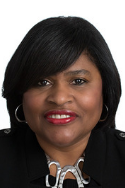 Minyon Moore serves as a partner at the Dewey Square Group, managing the State & Local Affairs and Multicultural Strategies practices.  Moore served as Assistant to the President and Director of White House Political Affairs and Director of White House Public Liaison for President Clinton.  She previously served as CEO and National Political Director of the Democratic National Committee.  Moore also served in high-level positions on the presidential campaigns of Reverend Jesse Jackson, Sr., Governor Michael Dukakis, and Secretary Hillary Rodham Clinton. She has served as a guest lecturer at the Harvard University Kennedy School of Government and Yale University.  She serves as a board member for the Writers Guild Foundation, the School of Global Journalism & Communications at Morgan State University, and the National Council of Negro Women.