The gendered dimensions of today's global pandemic are being revealed, felt, and analyzed in real time. From the gender differences in infection and death rates (higher for men) to the amplification of gender inequities in the economic and domestic spheres that heighten the vulnerability of women's economic, physical, and mental health, the gendered impact of COVID-19 is already evident. There are also gender stories about who is waging the fight against COVID-19. According the U.S. Census Bureau, women hold 76% of all heath care jobs. More specifically, women are over 85% of registered nurses nationwide, dominating one of the groups standing on the front lines battling coronavirus via patient care in hospitals nationwide.
There is another group of women health professionals who are also on the front lines in the war against COVID-19. Women are 31 of 50 (62%) of state health officials that are stepping up to lead states through this crisis. Women's dominance in these appointed statewide executive roles is notable; women hold less than 30% of statewide elected executive offices nationwide. Moreover, while women of color hold just 5% (16 of 311) of all statewide elected executive positions in the U.S., at least 14% (7 of 50) of state health officials are women of color.
Women are the top health officials in five (IL, MA, MI, NJ, PA) of the ten states that have the highest number of COVID-19 cases today, according to the CDC, and the majority of these women are women of color. Here are a few more facts about these women leading statewide health efforts amidst the current pandemic.
Illinois: Dr. Ngozi Ezike, Director of the Department of Health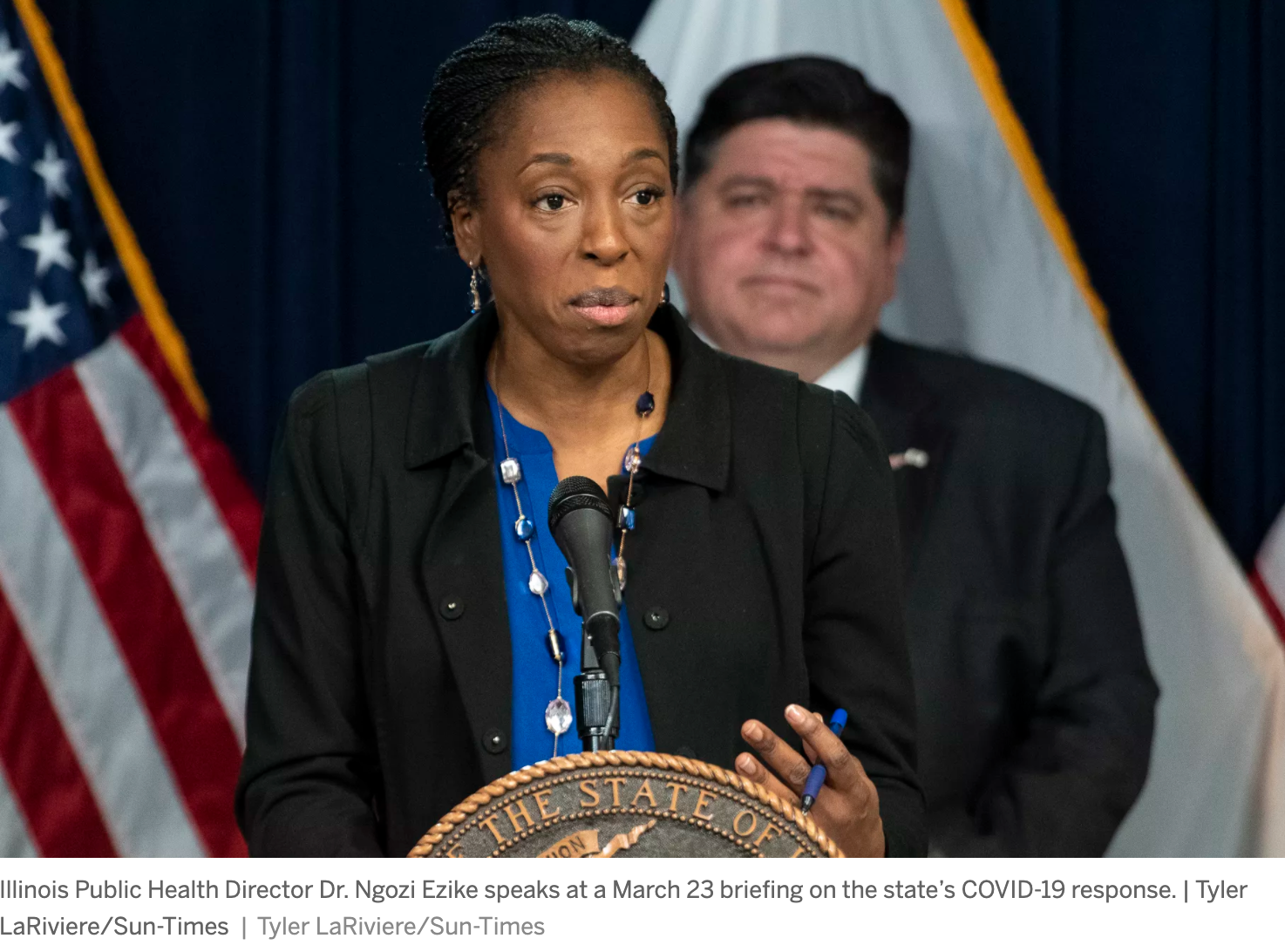 Dr. Ngozi Ezike is a board-certified internist and pediatrician. Previous to being appointed Director of Illinois' Department of Health by Governor JB Pritzker in 2019, she was Medical Director at the Cook County Juvenile Detention Center, the largest single site juvenile detention facility in the country.
Dr. Ezike has, with Governor Pritzker, provided daily briefings to the citizens of Illinois throughout the COVID19 crisis, often presenting her statements in both English and Spanish. On March 30th, she quoted Abraham Lincoln at the briefing, noting, "I am a firm believer in the people. If given the truth, they can be depended upon to meet any national crisis. The great point is to bring them the real facts."
I am grateful for the unwavering leadership of Dr. Ngozi Ezike, @IDPH Director. She has shown the world that civil servants can lead with factual guidance & heartfelt solace. You're a beacon of hope for all of us! #ThankfulThursday #WomensHistoryMonth#IllinoisStrong pic.twitter.com/5eBcX8BWUx

— Lt. Governor Juliana Stratton #AllinIllinois (@LtGovStratton) March 26, 2020
Massachusetts: Dr. Monica Bharel, Commissioner of the Massachusetts Department of Health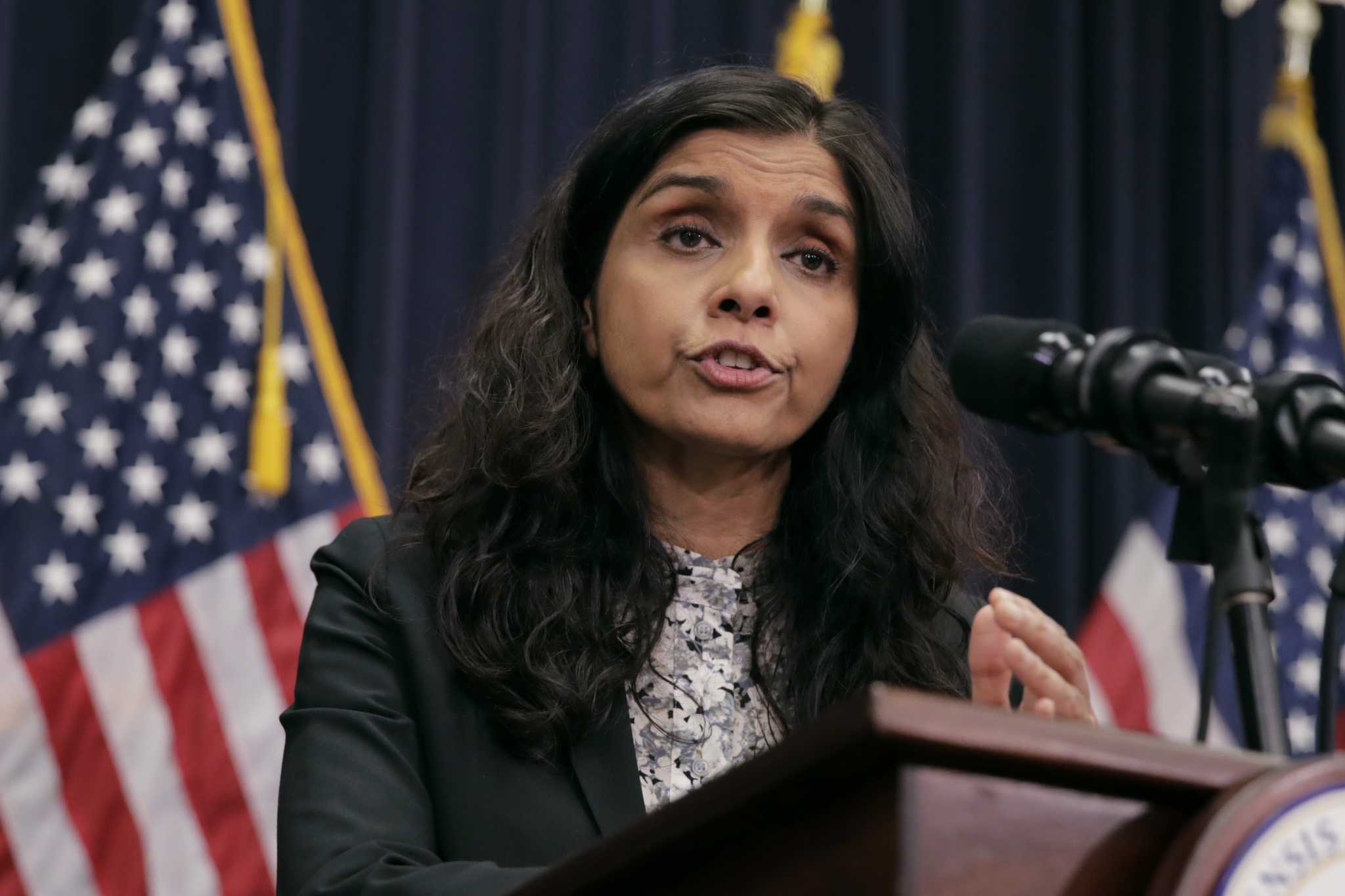 Dr. Monica Bharel has practiced general internal medicine for more than 20 years including at Massachusetts General Hospital, Boston Medical Center, in neighborhood health centers, the Veterans Administration, and at nonprofit organizations. Prior to her appointment as Commissioner of the Massachusetts Department of Public Health by Governor Charlie Baker in 2015, Dr. Bharel was the chief medical officer for the Boston Health Care for the Homeless Program. In 2017, during her tenure as commissioner, Massachusetts was named the healthiest state in the nation by America's Health Rankings Annual Report.
Dr. Bharel has drawn from her experience providing front-line care during the COVID-19 crisis. At a March press briefing, she explained, "I understand the need of our health care providers, and I appreciate the urgent needs of our patients and health care professionals." Dr. Bharel participated in daily briefings with Governor Baker until late March, when she tested positive for COVID-19. She has described the case as mild and continues to work remotely on the crisis facing the state and nation.
Michigan: Dr. Joneigh Khaldun, Chief Deputy Director for Health and Chief Medical Executive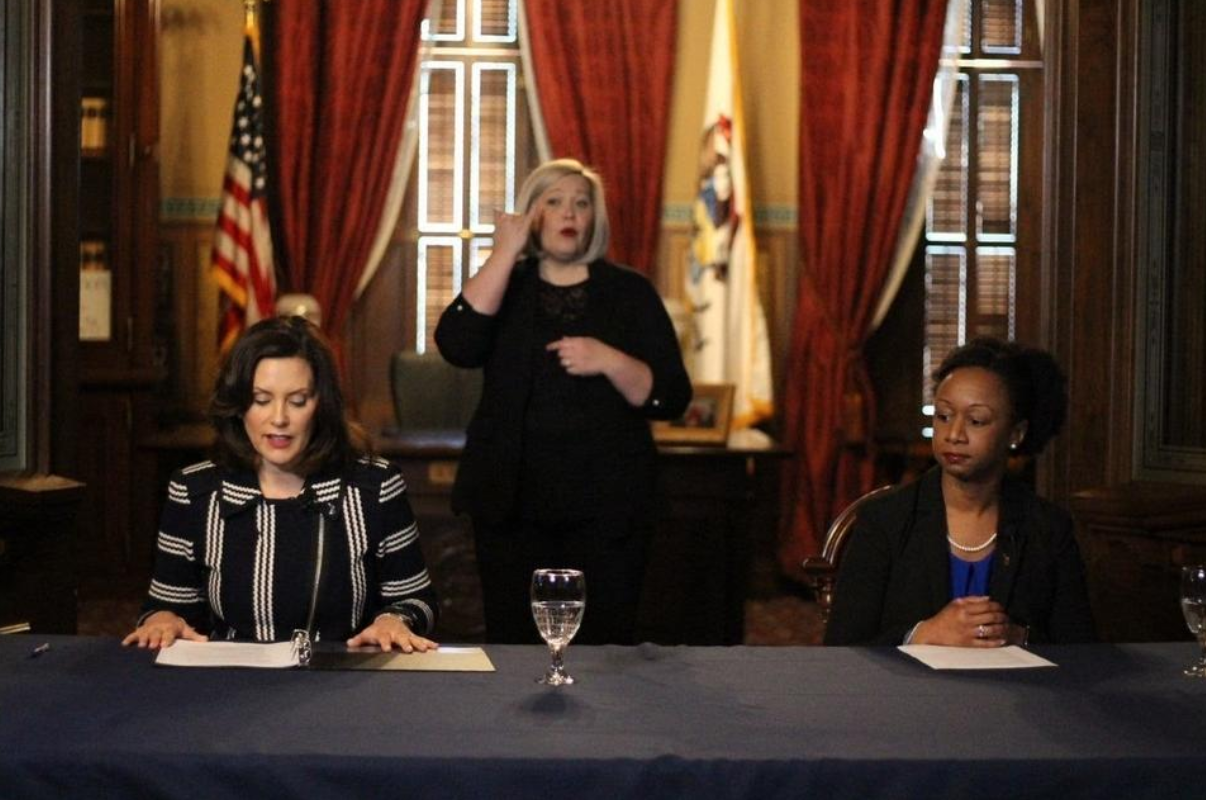 Dr. Joneigh Khaldun completed her residency in emergency medicine and continues to practice emergency medicine part-time at Henry Ford Hospital in Detroit while serving as Michigan's Chief Medical Executive. Prior to her appointment by Governor Gretchen Whitmer as Chief Deputy Director for Health for the state of Michigan in 2019, Dr. Khaldun was the director and health officer for the Detroit Health Department and the chief medical officer for the Baltimore City Health Department. She also served as a Fellow in President Obama administration's Office of Health Reform.
Under Dr. Khaldun's leadership, Michigan has become one of the first states in the nation to release COVID-19 case data by race, revealing the racial disparities in positive tests, with Black citizens significantly over-represented in those testing positive and dying from coronavirus in Michigan. Dr. Khaldun explained these data, noting, "There is no question that the COVID-19 outbreak is having a more significant impact on marginalized and poorer communities, particularly communities of color." Dr. Khaldun continues to brief Michigan residents daily, alongside Governor Whitmer, about the state's efforts to address the coronavirus pandemic.
New Jersey: Judith Persichilli, Commissioner of the Department of Health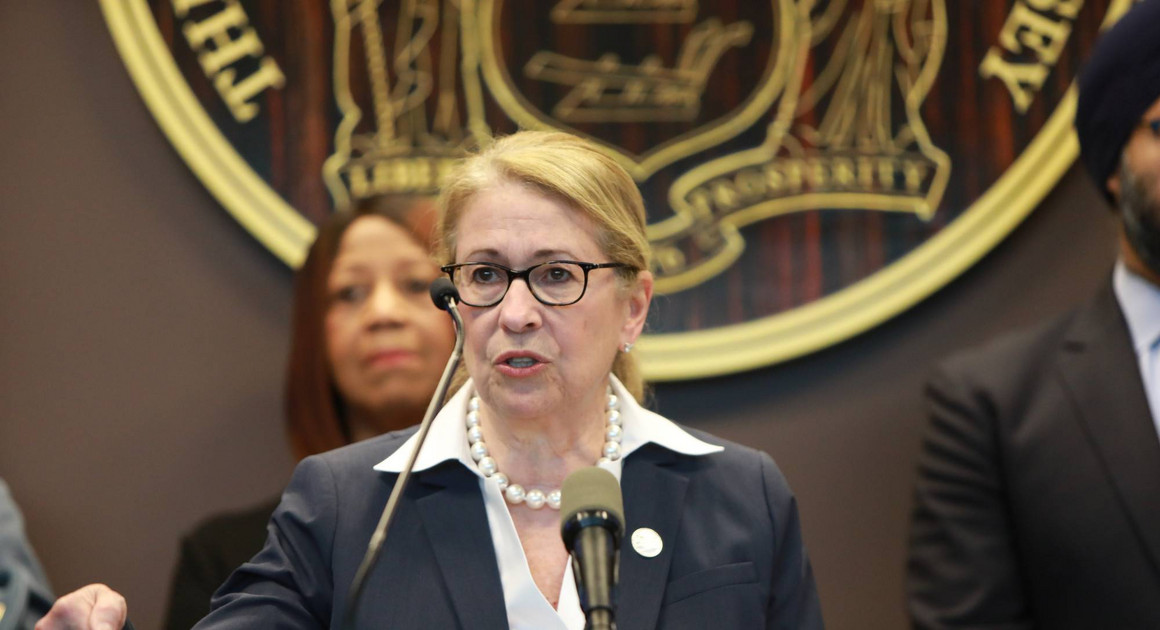 Judith Persichilli (R.N., B.S.N, M.A.) is a nurse with extensive experience in health administration. Prior to taking over New Jersey's Department of Health in 2019, Persichilli served as the Acting Chief Executive Officer (CEO) of University Hospital in Newark, as well as CEO of Catholic Health East in Michigan. In 2013, she was named one of the Top 25 Women in Healthcare by Modern Healthcare and, in 2006, she was inducted into the New Jersey State Nurses Association Hall of Honor.
Persichilli participates in daily briefings with Governor Phil Murphy, updating New Jersey and U.S. residents about trends in and actions taken in the state with the second-highest number of coronavirus cases in the country. In a recent interview with NJ.com, Persichilli said that she "always wanted to be a nurse," describing her early experience as an intensive care nurse. She explains that "individuals with clinical knowledge are in the best position to run hospitals." Today, she runs the state of New Jersey's medical response to COVID-19 with a combination of clinical and administrative experience.
Judith Persichilli has served admirably in her role as Commissioner of Health for the State of NJ. We have all watched as she has taken a leading role in educating us about the #COVID19 outbreak. I applaud her work.https://t.co/zyGMfz5Sit pic.twitter.com/Dv4EOnmvyh

— Steve Sweeney (@NJSenatePres) March 31, 2020
Pennsylvania: Dr. Rachel Levine, Secretary of Health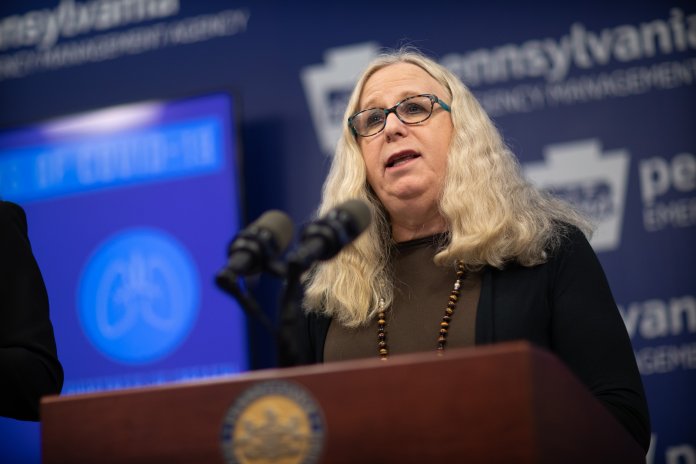 Dr. Rachel Levine is a Professor of Pediatrics and Psychiatry at the Penn State College of Medicine, in addition to being Pennsylvania's Secretary of Health. Dr. Levine is also the President-Elect of the Association of State and Territorial Health Officials. Dr. Levine began working for Pennsylvania's Department of Health in 2015 and was confirmed as its Secretary of Health under Governor Tom Wolf's administration in 2018. Prior to that, she served as Vice-Chair for Clinical Affairs for the Department of Pediatrics and Chief of the Division of Adolescent Medicine and Eating Disorders at the Penn State Hershey Medical Center. Dr. Levine has earned statewide and national attention not only for her achievements as Pennsylvania's top doctor, but also for her openness as one of a still small number of openly transgender public officials in the United States.
In addition to providing daily briefings with Pennsylvania Governor Tom Wolf, Dr. Levine has been active on Twitter throughout the COVID-19 crisis, providing useful information to Pennsylvania residents. In a recent interview with The Advocate, Dr. Levine explained her approach to leading the fight against COVID-19 in Pennsylvania: "It is very important to stay calm and focused in the midst of emergencies. And you know, that's what I learned in my clinical years during my training and then at my time at Mount Sinai and then Penn State when we would see very ill children and adolescents. In those emergency clinical situations, it's important to stay calm, and so that's what I do now."
Your mask protects me from exposure and my mask protects you.

A mask isn't a pass to go back to visiting friends or going to back to work at a non-essential business.

A mask is one more tool to protect ourselves against the spread of #COVID19. https://t.co/jDrfHRoTa7

— Dr. Rachel Levine (@SecretaryLevine) April 3, 2020
These are just a handful of the women who are contributing their medical expertise to governmental efforts to address COVID-19. Women governors are also leading statewide responses to the virus in 9 states: Alabama (Kay Ivey), Iowa (Kim Reynolds), Kansas (Laura Kelly), Maine (Janet Mills), Michigan (Gretchen Whitmer), New Mexico (Michelle Lujan Grisham), Oregon (Kate Brown), Rhode Island (Gina Raimondo), and South Dakota (Kristi Noem).
At the federal level, Dr. Deborah Birx serves as the Coronavirus Response Coordinator for the White House Coronavirus Task Force, joined also on that task force by Centers for Medicare and Medicaid Services Administrator Seema Verma. Dr. Birx is the Coordinator of the United States Government Activities to Combat HIV/AIDS and U.S. Special Representative for Global Health Diplomacy. She is board certified in internal medicine, allergy and immunology, and diagnostic and clinical laboratory immunology. For more than three decades, she had led efforts to address HIV/AIDS in the U.S. and worldwide. She continues to be among the top White House officials briefing the nation about U.S. cases and response. Seema Verma is the Administrator for the Centers for Medicare and Medicaid Services (CMS). For over twenty years, she has drawn upon her master's degree in public health to work in health care administration in both the public and private sectors.
Among the many individuals and groups who are contributing to the nation's fight against COVID-19, these women in public leadership roles are playing key roles on the front lines.