#WomenRun2014: Governors Outlook
Today we are focusing on the outlook for women running for governor. Despite 2014 being a "year of the governor" with 36 races across the nation,
[1]
we will not surpass any records for women running and winning states' top executive posts this year.
Candidates and Nominees
Thirty (16D, 14R) women filed to run for governor in 20 states in 2014. No women filed for candidacy in 16 of the states with gubernatorial races. The record number of women filing for governor is 34, set in 1994 (18D, 15R, 1ACP).
[2]
This year, 9 (6D, 3R) women won their primaries, including the four (1D, 3R) incumbents running for re-election. The record for women gubernatorial nominees is 10, set in 1994 (6D, 3R, 1ACP) and reached again in 1998 (6D, 4R), 2002 (9D, 1R), 2006 (5D, 5R) and 2010 (5D, 5R). There are no woman-versus-woman gubernatorial contests this year.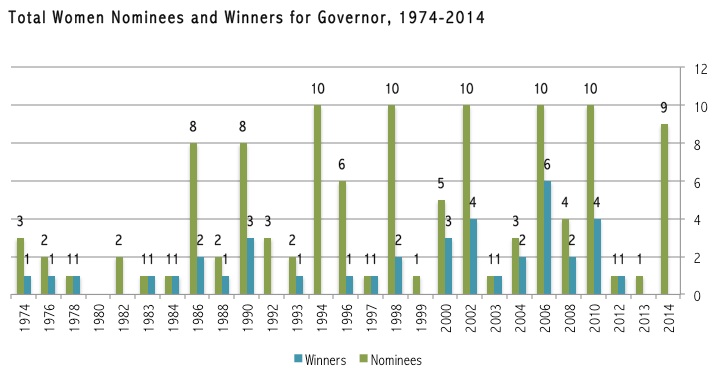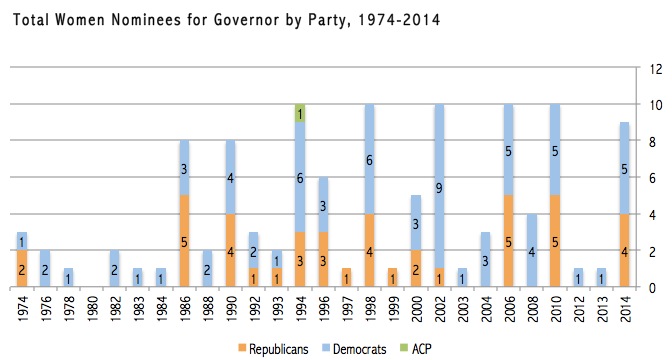 In addition to these women candidates and nominees, Delegate Donna Christensen (D-Virgin Islands) was successful in her primary bid to become governor of the Virgin Islands. Christensen is the only non-incumbent woman of color to make it to a general election ballot for governor this year. Two more female gubernatorial nominees in 2014 are women of color, incumbents Susana Martinez (R-NM) and Nikki Haley (R-SC). Both women were elected in 2010 as the first women of color to ever serve as governors in the United States.
[3]
Six more women of color filed in gubernatorial races this cycle, but did not make it to the general election, including two women in Florida and two women in Texas.
[4]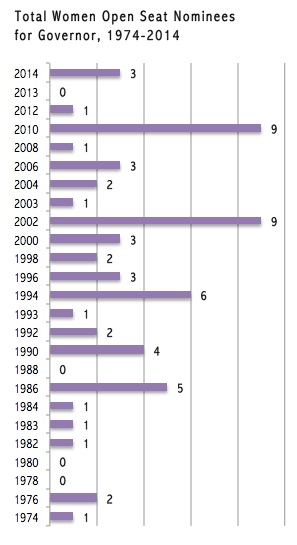 All five of the non-incumbent female nominees for governor this year are Democrats. Three women candidates – Martha Coakley (MA), Gina Raimondo (RI), and Wendy Davis (TX) -- are running for open seats. Two women candidates – Susan Wismer (SD) and Mary Burke (WI) -- are running as challengers. Women have fallen short of making history as candidates, nominees, or open seat nominees in both major political parties this year. When compared to the most recent cycles with similar numbers of gubernatorial seats up for election, more women filed as candidates for governor this year, but fewer women made it through their primaries.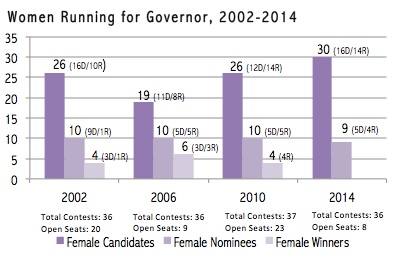 Women Governors in 2015
Five (1D, 4R) women currently serve as governors. With Governor Jan Brewer leaving office in Arizona due to term limits, four (1D, 3R) incumbent women governors are running for re-election next week: Maggie Hassan (D-NH), Susana Martinez (R-NM), Mary Fallin (R-OK), and Nikki Haley (R-SC). All incumbent women are leading in their campaigns for re-election. Based on the most recent ratings, two non-incumbent nominees face uphill climbs to victory this year: Susan Wismer (D-SD) and Wendy Davis (D-TX). The
Cook Political Report
rates Rhode Island's gubernatorial contest as "Lean Democrat," giving Gina Raimondo (D) a slight edge in that contest. The remaining non-incumbent women, Martha Coakley (D-MA) and Mary Burke (D-WI), are contenders are in two of the most competitive gubernatorial races of this cycle, both rated as toss-ups by
Cook
.

In 2002, a record 4 (3D, 1R) new women were elected as governors. We are unlikely to exceed that number of new women winning this year. Moreover, based on these estimates, we may end up with the same number of women governors as in 2014 (5), changing only the partisan balance among women governors. The record number of women serving as governor simultaneously is nine, achieved in 2004 and 2007.
What to Watch on Election Day
In addition to tracking the numbers of women winning gubernatorial offices on Election Day and closely monitoring the most competitive races with women running (see table above), we will be watching these races where women have the potential to make history:
Rhode Island: Democrat Gina Raimondo, if elected, will be the first woman governor of Rhode Island and the first woman to hold two different statewide elected executive offices in that state. Raimondo currently serves as the state treasurer.
Massachusetts: Democrat Martha Coakley, if elected, will be the second woman governor of Massachusetts. However, she would be the first woman elected governor of the state. Former Lt. Governor Jane Swift (R) served as acting governor in 2001 after then-Governor Paul Cellucci's resignation.
Virgin Islands: Democrat Donna Christensen, if elected, will be the first Black woman governor in the United States or territories. Christensen currently serves as one of two Black female delegates to the U.S. House of Representatives.
Wisconsin: Democrat Mary Burke, if elected, will be the first woman governor of Wisconsin.
To date, 35 women (20D, 15R) have served as governors in 26 states. In addition, one woman has served as governor in Puerto Rico. Based on current ratings, two more states (RI and WI) and one territory (VI) have the potential to break this gubernatorial glass ceiling in 2014. However, to put these numbers in context, the number of men who will serve as governors in 2015 is greater than the number of women who have
ever
held gubernatorial office. For the latest numbers and information about women running for office in 2014, visit CAWP's
Election Watch 2014
and check out our next post, reporting on the scary statistics on women in the 2014 elections. You can also follow the conversation on
Facebook
and
Twitter
by using the hashtag #WomenRun2014.
---