The 2022 election officially began with the first primary elections of the cycle in Texas on March 1, 2022. As we look ahead to the first big push of primary contests in May 2022, the Center for American Women and Politics has asked experts in gender and politics – scholars and practitioners alike – to provide their outlooks for the gender and intersectional dynamics to watch in this election cycle. See their contributions below and stay tuned to CAWP's Election Watch throughout the campaign for additional, and more detailed, analyses of these dynamics.
---
Will 2022 be another good year for Republican women?
Michele Swers
Professor of American Government, Georgetown University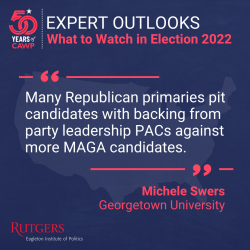 In 2020, Elise Stefanik (R-NY) rallied House Republicans to commit to recruiting and supporting female candidates and Republicans went from a low of 13 to achieve a new record 31 women. Will this trend continue in 2022? Historically, Republicans reject the idea of focusing on identity. Research shows Republican donors value candidate ideology and have not been responsive to efforts to raise money to elect women. However, party leaders want to win elections, and in 2020, all the districts that flipped from blue to red were won by women or people of color. So far in 2022, House Republicans are actively recruiting women and focusing on women of color.  In the first primaries, three Texas Latina Republicans won the nomination or are favored to win runoffs in competitive districts.
As Republican primaries continue to play out, what kind of Republican women can win?  President Trump changed Republican politics. Candidates in Republican primaries need to demonstrate more than conservatism, they need to show a willingness to fight, a stance that will require them to balance gender stereotypes about femininity and toughness. A commitment to President Trump, including his claim that the 2020 election was stolen, is required to win his coveted endorsement. Many Republican primaries pit candidates with backing from party leadership PACs against more MAGA candidates aligned with the Freedom Caucus and groups who want to confront the establishment.  Will the women who ultimately win seats be more aligned with leadership and looking to govern or will they be provocateurs seeking influence through social media and conservative TV and radio shows? As Republican controlled states continue to draw maps that favor creating safer, redder districts over competitive seats, Republican women elected in 2022 could achieve a stronger hold on their districts — making the outcome of these internal party battles even more significant for the future of congressional policymaking.
---
Redistricting creates sites of both opportunity and challenge for women.
Kelly Dittmar
Director of Research, Center for American Women and Politics (CAWP)
Associate Professor of Political Science, Rutgers University-Camden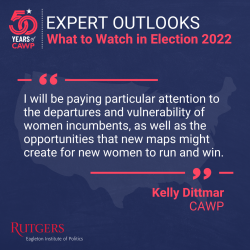 The 2022 election presents distinct complexities for women (and men) running for the U.S. House and state legislatures due to reapportionment and redistricting, with effects on other offices as the maps shake up opportunities for both incumbents and non-incumbents. In this context, I will be paying particular attention to the departures and vulnerability of women incumbents, as well as the opportunities that new maps might create for new women to run and win. At CAWP, we have created a resource to track redistricting effects on women U.S. House incumbents specifically. As of March 2022, our tracker shows 11 (8D, 3R) incumbents appear to be less safe in their districts due to new maps while 3 (2D, 1R) appear to be safer post-redistricting than they were with previous maps. Beyond incumbents, new maps create opportunities for newcomers to take advantage of newly-created and/or newly-competitive seats. Already, women are capitalizing on these opportunities; Monica de la Cruz secured the Republican nomination in Texas' newly-created 15th congressional district in the March 1st primary, a district that Cook Political Report currently rates as Lean Republican.
Many will ask if redistricting will create more or fewer advantages or disadvantages for women than men. This is hard to measure, especially in real time. However, history provides some guidance. While it has been relatively common for women to criticize backroom politics surrounding redistricting as either gendered in process or outcomes, there exists no clear evidence of distinctly gendered effects of redistricting on women's political representation (see, for example, this analysis of 2010 redistricting from Simon, Palmer, and Villarreal). I will continue to pay close attention to these potential disparities both now and post-election, at congressional and state legislative levels, to best understand how women fare in this once-in-a-decade electoral environment.
---
In an historic year for Black women, we'll be interested in how Black women candidates frame their experience through political communication.
Michael G. Strawbridge
Ph.D. Candidate, Rutgers University
Nadia E. Brown
Professor of Government, Georgetown University
Christopher J. Clark
Associate Professor, UNC-Chapel Hill
Anna Mahoney
Administrative Associate Professor, Tulane University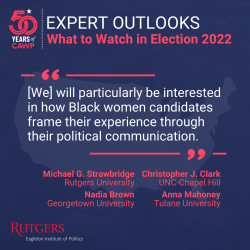 As we celebrate the 50th anniversary of Representative Shirley Chisholm's presidential candidacy announcement, we are awed by the strength of her voice ringing out, "Those of you who have been neglected, left out, ignored, forgotten, or shunned aside for whatever reason — give me your help at this hour. Join me in an effort to reshape our society and regain control of our destiny, as we go down the Chisholm Trail of 1972." In the 2022 elections, our research team will particularly be interested in how Black women candidates frame their experience through their political communication. Our research on how Black congresswomen communicate via Twitter shows that they uniquely frame issues as intersectional and emanating directly from lived experience. They also amplify their peers' voices and share credit more frequently than their male counterparts. Do campaign messages follow these same patterns? Is this unique framing electorally beneficial? How might the identity of opposing candidates shape the way Black women candidates present themselves? These are but a few of the questions that interest us as the 2022 election cycle unfolds. 
---
White suburban women continue to be an important site for analysis.
Erin C. Cassese
Professor, University of Delaware
Meredith Conroy
Associate Professor, Cal State San Bernardino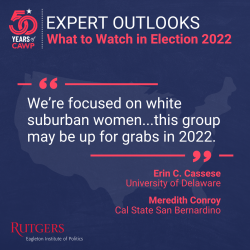 This election cycle, we're focused on white suburban women. According to Pew Research's validated voter report, Biden made gains among closely divided white voters in the suburbs in 2020. Some have attributed Biden's success to suburban women specifically, citing their growing disenchantment with President Trump despite his efforts to bring them back into the fold. However, white suburban women were cited as an important force driving Republican Governor Glenn Youngkin's victory in Virginia last year, suggesting this group may be up for grabs in 2022. In our ongoing research investigating white suburban women voters, we're interested in how the focus on suburban women tracks with past characterizations of women voters as "soccer moms" or "security moms", and we also consider how public opinion toward specific policy issues is driving this group's choices at the polls. We're also grappling with the complexity involved in classifying voters as suburban and thinking about the broader context of the changing racial composition of the suburbs over time. 
---
Women of the New American Majority (NAM) seek continued success at every level of office.
A'shanti F. Gholar
President, Emerge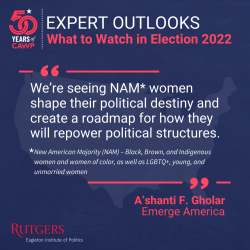 In 2020 and 2021, we saw a record number of women of the New American Majority (NAM) – Black, Brown, and Indigenous women and women of color, as well as LGBTQ+, young, and unmarried women – run for office. They were incredibly successful as candidates and went on to change the demographics of many offices and provide unique experience in decision-making bodies. In 2022, we'll be watching the continued success of NAM candidates, as well as their leadership as elected officials. This group's influence in politics is expanding — NAM women have been some of the most exciting women on the ballot recently and make up a growing part of the electorate.
Despite the overwhelming success NAM women have experienced in the last several elections, they're still underrepresented in office. The campaign trail looks starkly different for NAM women who are competing in a system designed by and for men. However, they are leveling the playing field and building the political pipeline as they overcome barriers to entry and continue to see success at every level of office. We're seeing NAM women shape their political destiny and create a roadmap for how they will repower political structures both in elections and with how they serve their communities.
---
Contests for Secretary of State are especially important in election 2022.
Christine Matthews
President, Bellwether Research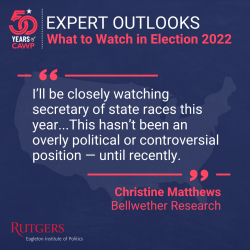 I'll be closely watching secretary of state races this year. Typically, the state's top election official handles administrative aspects of elections and voter registration. This hasn't been an overly political or controversial position — until recently. In 2017, President Trump asked secretaries of state to turn over voter files to his "election fraud" commission; most refused. Now, many of the Republicans running for this office are "Big Lie" proponents. By my count, nearly half of the GOP women running this year fall into this category. By contrast, the only GOP incumbent woman running, Indiana Secretary of State Holli Sullivan, has repeatedly emphasized the security and integrity of elections in her state. In nearby Michigan, however, Republicans may be on track to nominate an election denier at their April convention. Secretary of state candidate Kristina Karamo – who has Trump's endorsement – has raised far more money than her Republican opponents. If she prevails, Karamo would face incumbent Jocelyn Benson, who has been a target of Trump and his supporters in what would undoubtedly be a contentious contest. Another key state to watch is Georgia (again) as both the Republican incumbent governor and secretary of state face "Big Lie" primary challengers.
---
Watching the money race will reveal whether gender disparities in giving persist.
Kira Sanbonmatsu
Senior Scholar, Center for American Women and Politics (CAWP)
Professor of Political Science, Rutgers-New Brunswick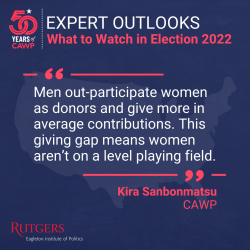 I'll be watching women's participation as donors in the 2022 elections. CAWP's research on money in politics, conducted in collaboration with OpenSecrets, finds a persistent deficit in women's giving to candidates. Men out-participate women as donors and give more in average contributions. This giving gap means women aren't on a level playing field in helping their candidates of choice run and win — a deficit in voice that can impact public policy. Our research on candidates for the office of governor, other statewide executive offices, and state legislative offices finds a large gender imbalance in who gives — a gap that persists across election cycles. Because women disproportionately give to women candidates, the giving gender gap may hinder the emergence of women candidates. Because of structural inequalities in earnings and wealth based on gender, race, and their intersection, inequalities in giving may not be surprising. But it appears the giving gap is not just about resources: giving to candidates has not taken hold as a form of participation for women — a discrepancy that contrasts with women's strong showing as voters. With a large number of statewide offices including governor in play in 2022, and a number of historic candidacies underway, it will be important to watch the money race.
---
In 2022, it is possible that all politics will indeed be local.
Jennie Sweet-Cushman
Associate Professor of Political Science, Chatham University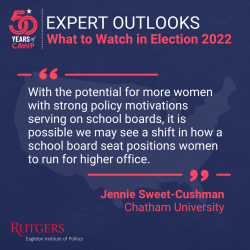 In 2022, it is possible that all politics will indeed be local (as the saying goes) as women vie for seats on school boards, prompted by concerns on both the left and right over issues of school curriculum, treatment of transgender students, and COVID-19 mitigation strategies. Beyond the immediate impact these women may have on their local school policies, adding more women to school boards, where nationally there is very nearly gender parity, could create a stronger pipeline of women candidates to higher office down the road. School boards have historically been an untapped source for experienced women candidates. My research found gender gaps in political ambition, especially in interest in moving from school board to a state legislative seat. Women were less likely to be encouraged to run for higher office by their political and personal networks despite encouragement being even more important for women's progressive ambition than men's. With the potential for more women with strong policy motivations serving on school boards, it is possible we may see a shift in how a school board seat positions women to run for higher office.
---
Can Republican women sustain or improve on the gains they made in 2020?
Rosalyn Cooperman
Professor of Political Science, University of Mary Washington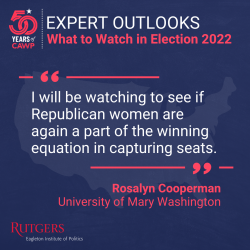 Heading into the 2020 congressional primary election season, Republican Representative Elise Stefanik (R-NY) promised to "play in primaries" and use her PAC, E-PAC, to endorse, support, and fund fellow Republican women running for Congress. These efforts bore fruit as Republican women ran for Congress in record numbers, and 11 of the 14 seats Republicans flipped from Democrat to Republican that year were won by Republican women.
Congressional midterm elections typically spell trouble for the president's party, and Republicans are predicted to gain a majority in the House this November. In the coming months I will be watching to see if Republican women are again a part of the winning equation in capturing seats from Democratic incumbents and picking up open seats where no incumbent is running for re-election. For her part, Representative Stefanik, now Republican House conference chair, and E-PAC have already made two rounds of endorsements for 18 Republican women running in 2022. Interestingly, Stefanik and E-PAC endorsed Harriet Hageman, who is running against Representative Liz Cheney in the Republican primary for the Wyoming at-large House seat. Indeed, it was Stefanik who replaced Cheney as the No. 3 House Republican when the party conference dumped Cheney from her leadership position after she and nine other House Republicans voted to impeach President Trump for his role in the January 6th insurrection.
---
Redistricting, reapportionment, and racially restrictive voting laws threaten to roll back gains made by Latinas in 2018 and 2020.
Anna Sampaio
Professor, Santa Clara University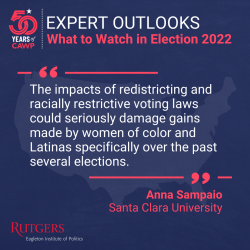 Following the record number of Latinas who ran for national office in the 2018 and 2020 elections and who won seats in Congress, I'm keenly interested in what happens this year as many of these same women run for re-election, especially in states where redistricting has significantly altered the electoral map and, in some cases, diluted or eliminated opportunities for women of color altogether. California and Texas in particular stand out in 2022 because of the significant changes in the congressional maps of these two states brought on by reapportionment and redistricting, because approximately half (47%) of all Latina candidates for national office in 2020 emerged from these states, and together California and Texas account for approximately 45% of the entire Latina/o/x population in the U.S.
In both previous research on Latina political participation (2021, 2018, 2016) and my current work examining Latina candidate emergence in recent campaigns for national office,  I've documented how California and Texas represent vastly different political landscapes for Latina politics, with California serving as the epicenter of Latina congressional power with five Latina incumbents and thirteen Latina candidates in total running for national office in 2020.  However, following the controversial 2020 census where Latinas/os/xs were significantly undercounted, the state lost a congressional seat in one of the largest Latina/o/x populations centers in southern Los Angeles County. With new congressional and state legislative maps in place, two significant Latina/o/x centric districts will combine, prompting one of the longest serving Latina congressional office holders, and the first Mexican American woman elected to Congress – Representative Lucille Roybal-Allard – to announce her retirement from CA-40 in December 2021. The newly-created open seat in this district is already drawing a broad slate of candidates to the race, including at least two Latinas – Democratic Assemblywoman Cristina Garcia and Nicole López – however, it remains to be seen whether another Latina will succeed Roybal-Allard in this district or in one of the heavily redraw district maps in places such as the California Central Valley where Latinas/os/xs have dominated the population for decades but have been largely shut out of congressional races.
In Texas, where the first two Latinas – Veronica Escobar (D) and Sylvia Garcia (D) – were elected to Congress in 2018 and where the state has become increasing Latina/o/x, congressional redistricting stands to benefit Republicans who both control the legislature and who now operate free from federal oversight intended to ensure Latina/o/x voters and other non-white populations aren't unfairly discriminated against in the process. This means that Latina/o/x population centers such as the Dallas-Fort Worth area, where district lines could have potentially been redrawn to create a Latino opportunity district, thereby increasing the chances of electing another a Latina/o/x to Congress, instead saw Latina/o/x votes diluted as Latina/o/x neighborhoods were carved up and redistributed to districts dominated by white voters. Coupled with the increase of racially restrictive voting laws in the state, such redistricting plans could harm both the potential for additional Latinas to be elected to Congress and negatively impact the power of Latina voters who tend to vote more Democratic than their male counterparts.
In the end, while the increased presence of Latina candidates and voters across the country, and especially in states such as California and Texas, proved significant to a national shift in political power, particularly Democratic control over the House of Representatives, the impacts of redistricting and racially restrictive voting laws could seriously damage gains made by women of color and Latinas specifically over the past several elections.
---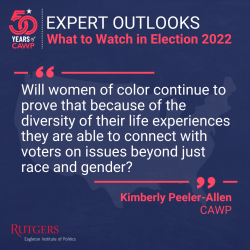 I am watching the performance of women and people of color from several different angles.
Kimberly Peeler-Allen
Visiting Practitioner, Center for American Women and Politics (CAWP)
In the 2022 midterm elections, I am watching the performance of women and people of color from several different angles.
First, as we continue to see record numbers of women of color running for Congress, many are running in districts that are not majority-minority districts. Will this group of candidates continue to prove that because of the diversity of their life experiences they are able to connect with voters on issues beyond just race and gender?
Second, if history is to be our guide and the Republicans do well in November, will Republican women and people of color be the candidates that win their party the majority in the Senate and/or House? And if so, what were the messages that resonated with voters in those campaigns?
Lastly, the national narrative about women of color in elected leadership has become caustic. Will there be any type of course correction by mainstream media and social media platforms this cycle?